Tamika L. Anderson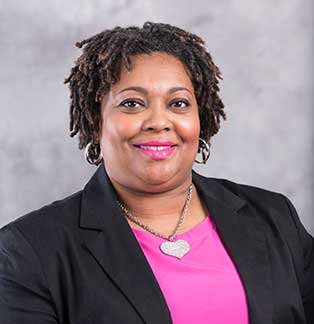 Position: Instructor Department: Nursing
Contact Info
Office: 414 F.L. Atkins Phone: 336-750-2797 Fax: 336-750-2034 Email: andersonta@wssu.edu
Biography
Dr. Tamika L. Anderson, an alumni of Winston-Salem State University, began working as a registered nurse in 1999. She specializes in pediatrics, and has worked as a pediatric nurse in a variety of settings including acute care, primary care, and public schools. Dr. Anderson began her career as a nurse educator in 2007. As a member of the nursing faculty at WSSU, Dr. Anderson is the coordinator of the child health nursing course in the traditional, pre-licensure program. She has also taught various other nursing courses at the freshman, sophomore, and junior levels. Dr. Anderson has a profound love for teaching. She strives daily to be an influential role model, mentor, and motivator for her students. Her ultimate goal, as a nurse educator, is to cultivate competent, professional registered nurses who have the ability to thrive and make impactful contributions in the field of healthcare. Dr. Anderson's research and scholarly work focuses on sudden infant death syndrome (SIDS) in the African American community; specifically educating the African American community about infant safe sleep practices and other risk reduction strategies.
Educational Background
Doctor of Nursing Practice, 2013, Chatham University
Master of Science in Nursing, 2006, The University of North Carolina at Greensboro
Bachelor of Science in Nursing, 1999, Winston-Salem State University
Research and Project Interests
Sudden infant death syndrome
Infant mortality
Child health
Krowchuck, H.V., Anderson, T.L., & Cruise, E. (2007). 2nd Opinion: Should the HPV vaccine be mandatory for early adolescent girls? The American Journal of Maternal Child Nursing, 32(4), 208-209.
Anderson, T. L., Dixon, K., Lewallen, L., & Jarrett-Pulliam, C. (2011). Nursing Research: Getting started. A collaborative approach of nurse academicians and clinicians. Nursing Management, 42(3), 20-23.