Darius M. Cureton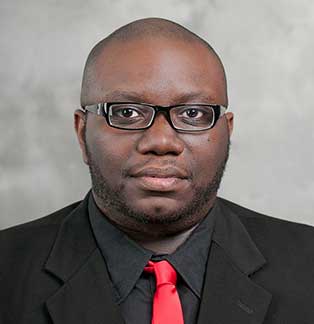 Position: Assistant Director of Writing in the Major Program (WIM/QEP) Department: English
Contact Info
Office: 217 Hill Hall Phone: 336-750-2316 Email: curetond@wssu.edu
Biography
Darius M. Cureton is a native of Charlotte, NC but has lived in Winston-Salem since 2001. He is a graduate of Garinger High School of Charlotte, NC. In the fall of 1996, Darius entered to learn at Winston-Salem State University and departed to serve in May of 2000.
During his matriculation, he participated in the WSSU Marching Ram Band, the Ram Ambassadors, and Campus Pals. He was inducted in to Alpha Kappa Mu, Honor Society and was a founding member of the Kappa Lambda Chapter of Kappa Kappa Psi, National Honorary Band Fraternity, Inc. The following spring, upon graduation from WSSU, he began his matriculation at North Carolina Agricultural and Technical State University where he received his master's degree in English and African-American Literature in December of 2001.
Since then, Darius has served on numerous university committees which include the University Assessment Committee, the Academic Athletic Council, and the United Way Campaign Committee. He has also served the Department of English and Foreign Languages in a variety of capacities including being the Chair of the Creative Writing Committee, being a member of the Department's Assessment, Strategic Planning & Recruitment teams, assisting with the department newsletter, and being the technical liaison for the building's classrooms and the content manager for the department's webpage.
Darius's passion is still teaching as he still teaches traditional student Freshman Composition Courses and accelerated Evening/Weekend Freshman Composition Courses each semester. His hope is that he can continue to help students gain a better understanding of English and writing as they are skills that are highly regarded in today's society; as well as having a little fun while doing it.
Educational Background
Master of Arts, 2001, English & African American Literature, North Carolina Agricultural & Technical State University
Bachelor of Arts, English, Winston-Salem State University
Research and Project Interests
Document Design
Digital Media
Rhetoric and Composition
"Real Men Teach." Presentation at the NC Minority Male Mentoring Conference – Raleigh, NC. Spring2012.
"What Chu Talkin' About – Codeswitching in Various Environments." Presentation at the WSSU "Attitude Matters" student conference. Spring 2010 & 2011.
"Active Learning with Web 2.0 Tools." Workshop and Poster Presentation at WSSU Scholarship Day and CETL Summer Institute. Spring 2010, Summer 2010, and Fall 2011. http://w2t4t.wetpaint.com/page/Darius+M.+Cureton%27s+e-portfolio
"What Do I Do Now?" The Podium. Spring 2004. Official Publication of Kappa Kappa Psi & Tau Beta Sigma Fraternity/Sorority Inc.
"Choosing the Right Graduate School for You." Presentation at the Fall 2003 English and Foreign Languages Dept. "Mix and Mingle." October 2003.
"The State of the NAA." The Podium. Fall 2003. Official Publication of Kappa Kappa Psi & Tau Beta Sigma Fraternity/Sorority Inc.
"The Future of HBCUs." Ynobe Community Newsletter. (2000). Ynobe—Reflections of Ebony. Oct. 2000. http://www.ynobe.com
"The Spirit of Brotherhood." Presentation to the members of Kappa Kappa Psi and Tau Beta Sigma at annual Southeast District Convention (Greenville, SC). March 2000.
"Polk 2000." In Between Days. (1999). The International Library of Poetry. Alyssa R. Stokes-Reinhardt, Editor.
"A New Age in Animation." RAMA. 1:1 (2002). Apr. 1999. http://home.triad.rr.com/siar/RAMA/mockup3.html.
Instructor. Winston-Salem State University. August 2002 to Present.
English 1301 (Freshman Composition I)
English 1302 (Freshman Composition II)
English 1312 (Engaging the World through Writing)
English 1313 (Writing in a Digital World)
Instructor. North Carolina A&T State University. August 2002 to May 2004.
English 100 (Ideas & Their Expression I)
English 101 (Ideas & Their Expression II)
Graduate Teaching Assistant. North Carolina A&T State University. January 2001 to December 2001.
English 100 (Ideas & Their Expression I)
English 101 (Ideas & Their Expression II)