Cecil Holland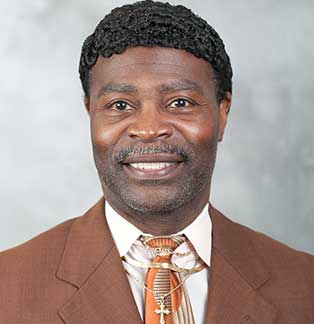 Position: Interim Associate Dean Department: Nursing
Contact Info
Office: 208 F.L. Atkins Building Phone: 336-750-2272 Email: hollandc@wssu.edu
Biography
Dr. Cecil Holland is the Interim Associate Dean and Chief Operating Officer of the Division of Nursing at Winston-Salem State University. He also serves as Assistant Dean for Admissions, Student Affairs and Program Effectiveness and a tenured Associate Professor at Winston-Salem State University. Dr. Cecil Holland is a noted clinician and academician with over 34 years of nursing, education, and administration experience. He has practiced medical-surgical, critical care and gerontological nursing during the span of his nursing career.
Dr. Holland has facilitated the education and training of healthcare personnel in a number of venues. Through his commitment to quality education and training, patient care modalities have improved, thereby promoting excellent patient care.
He received both his baccalaureate degree and Masters of Science in Nursing degree as a Family Nurse Practitioner from WSSU. Dr. Holland also received the Masters of Science in Adult Education degree from North Carolina Agricultural and Technical State University in Greensboro, NC, the Doctor of Education in Higher Education and Leadership specializing in Healthcare Education from Nova Southeastern University, Ft. Lauderdale, FLA, and the Doctor of Philosophy in Health Care Administration from Breyer State University in Alabama. Dr Holland's research interest includes cardiovascular health, childhood obesity, and interrogational collaboration. He serves on numerous community boards, has received over $500,000 in extramural funding, has been published in several peer reviewed journals and magazines, and has presented at national conferences.
Dr. Holland's community service has included membership of several Boards of Directors including, The Shepherd Center of Winston-Salem, UFit2, Inc., SECU Hospitality House, and St. Stephen Missionary Baptist Church. Additionally, he chaired the Congregational Nurse Health Ministry Council of the Shepherd Center. He has served in leadership positions in national organizations. He served as Vice President of the Rho Lambda Chapter of Sigma Theta Tau International Honor Society of Nursing. He is currently on the Executive Board of Rho Lambda and serves as Treasurer. He is a member of the Forsyth Technical Community College Nursing Advisory Board and the WSSU School of Health Sciences Advisory Board.
Educational Background
PhD 2006 Breyer Sate University, Birmingham AL
MSN 2004 Winston-Salem State University, Winston-Salem NC
EdD 2999 Nova Southeastern University, Ft. Lauderdale FLA
MEd 1990 North Carolina A & T State University, Greensboro NC
BSN 1989 Winston-Salem State University, Winston-Salen NC
AAS Forsyth Technical College, Winston-Salem NC
PNE Diploma 1982 Forsth Technical Institute, Winston-Salem NC
Research and Project Interests
Cardiovascular Health
Interprofessional Collaboration
Holland, Cecil. (September 2015). Investing in our nursing workforce. Nursing Management. 46(9): 8-10 Reddick, Bobbie. & Holland, Cecil. (May 2015). Reinforcing discharge education and planning. Nursing Management. 46(5): 10-14. doi: 10.1097/01.NUMA.0000463887.70222.50
Holland, C. (January 2015). Practice and Education: Partnering to create a pipeline of nurse leaders. Nursing Management, 46,(1): 8-10. doi: 10.1097/01.NUMA.0000459100.79105.1b
Holland, C., Carthron, D., Duren-Winfield, V., Lawrence, W. (2014). An experiential cardiovascular health education program for African-American college students. Association of Black Nursing Faculty Journal, 25(2):52-6.
Bethea, D., Holland, C. & Reddick, B. (September 2014). Storming the gates of interprofessional collaboration. Nursing Management. 45(9); 40-45. doi: 10.1097/01.NUMA.0000453272.11253.01
Sherrod, Dennis and Holland, Cecil. (May 2014). Forecast: 100% chance of talent. Nursing Management. 44,(5); 46-50. doi: 10.1097/01.NUMA.0000429003.62516.f4
Reddick, B.K., Bethea, D.P., & Holland, C.A. (2012). Promoting successful careers in allied health and nursing. Journal of Best Practices in Health Professions Diversity: Research, Education and Policy, 5(2), 842-849.
Ferrell, Nicole, James, Debbie, and Holland, Cecil. The Nursing Shortage: Exploring the Situations and Solutions. Minority Nurse Magazine Spring 2011.
Ingram, Racquel, Holland, Cecil, and Sherrod, Dennis (June 2007). Get staff fired up. Men in Nursing, 2(3), 35-40.
Aragon, SJ, Flack, SA, Holland, CA, Richardson-Ingram, R. and Clements, M. (Fall 2006).The Influence of Patient-Centeredness on Minority and Socioeconomically-Disadvantaged Patients' Trust in their Physicians: An Evidence-Based Structural Equation Modeling Investigation. Journal of Health Disparities and Research, 1 (1), 63-74
Holland, C., Sherrod, D., Praytor, B. (June, 2006). Take the fast track to nursing. Men in Nursing, 1(3), 28-32.
RWJF New Careers in Cecil Holland (PI) September 2014-August 2015
Nursing Program
$100,000 - Funded
Focus on the continual efforts to increase professional nursing capacity.
Role: PI
Technical support grant Cecil Holland PI September 2014-August 2015
RWJF New Careers in Cecil Holland (PI) September 2013-August 2014
Nursing Program
$100,000 - Funded
Focus on the continual efforts to increase professional nursing capacity.
Role: PI
Technical support grant Cecil Holland (PI) September 2013-August 2014
HRSA Student Disadvantage Scholarship Grant June 2012 – May 2013
Lenora Campbell (PI)
$2.6 million - Funded Cecil Holland (Co PI)
Student Disadvantage Scholarship. The goal is to provide financial support to economically and environmentally disadvantaged nursing students at WSSU over 4 year period.
Role: Co-PI
RWJF New Careers in Cecil Holland (PI) September 2012-August 2013
Nursing Program
$100,000 - Funded
Focus on the continual efforts to increase professional nursing capacity.
Role: PI
Technical support grant Cecil Holland (PI) September 2012-August 2013
RWJF New Careers in Cecil Holland (PI) September 2011-August 2012
Nursing Scholarship Program
$90,000 - Funded
Addressing the nursing shortage..increasing the number of culturally diverse healthcare providers. This scholarship provides financial support to minority students enrolled in the accelerated baccalaureate option.
Role: PI
HRSA Student Disadvantage Scholarship Grant June 2010 – May 2011
Lenora Campbell (PI)
$650,000 - Funded Cecil Holland (Project Manager)
Student Disadvantage Scholarship. The goal is to provide financial support to economically and environmentally disadvantaged nursing students at WSSU.
Role: Project Manager
HRSA 10-167 Cecil Holland (CoPI) Submitted April 26, 2010
ARRA EETHP NWD Program Joanette McClain (CoPI)
$299,291 – Not funded
The purpose of this grant is to purchase healthcare equipment that would be used to create a mobile nursing skills laboratory. The mobile health unit will be taken to low-income, inner-city neighborhoods to teach youth basic nursing skills and terminology; thereby influencing decisions to enter nursing and/or other healthcare careers.
Role: CoPI
RWJF New Careers in Cecil Holland (PI) September 1-August 31, 2010
Nursing Scholarship Program
$100,000 - Funded
Addressing the nursing shortage..increasing the number of culturally diverse healthcare providers. This scholarship provides financial support to minority students enrolled in the accelerated baccalaureate option.
Role: PI
RWJF Evaluating Innovations Cecil Holland (CI) Submitted November 24, 2009
in Nursing Education Grant
Not funded
A partnership with healthcare facilities to provide clinical faculty for schools of nursing. An evaluation of the Clinical Teaching Associate (CTA) program.
NIH AREA R-15
Grant # TBD Cecil Holland (PI) Submitted September 18, 2009
$300,000 - Not funded
Obesity Prevention in College Students: An HBCU Experience. The goal is to develop an educational intervention aimed obesity prevention in African American college aged students.
Role: PI (10%)
HRSA Student Disadvantage Scholarship Grant June 2009 – May 2010
Lenora Campbell (PI)
$1,100,000 - Funded Cecil Holland (Project Manager)
Student Disadvantage Scholarship. The goal is to provide financial support to economically and environmentally disadvantaged nursing students at WSSU.
Role: Project Manager
Piedmont Triad Partnership Wired Grant
Grant # 210731 Bobbie Reddick (PI) October 2008 – February 2009
$53,000 – Funded Cecil Holland (CI)
Student Success and Retention Project for Nursing – Solutions Outlining Success. The goal is to develop a retention plan and production of a Retention Plan Booklet.
Role: CI (2.5%)
WSSU and WFUBMC Accelerated BSN Option Grant January 2007- present
Grant # 210154 Peggy Valentine (PI)
$5,409,783 - Funded Cecil Holland (Project Manager)
WSSU Accelerated BSN Option. The goal is to educate and train over a 5 year period 45 nursing students per year in 13-months to receive the baccalaureate degree in nursing to work at NCBH.
Role: Project Manager
NIH Grant 1 P20 MD002303-01 October 2007 – May 2009
Pilot Project #8 A&B Fannie Gaston-Johansson (A) Bobbie Reddick (B)
$140,000 – Funded Sylvia Flack CI, Cecil Holland CI, Charlena Garrison, CI
Symptom Prevention and Management in African American Women with Breast Cancer
Role: CI (2.5%)
IRB Study # 2986-07-0006 Cecil Holland (PI) September 2006-December 2008
Center for Innovation in Health Disparities
$10,000 - Funded
Cardiovascular Health Education for College Students: An Experiential Approach. The goal of this project is to design a culturally specific and developmentally appropriate experiential curriculum that includes self and family assessment to increase awareness of cardiovascular risk of African American college students.
Role: PI (10%)
Department of Defense Bobbie Reddick (PI) October 2005-October 2006
$78,267 – Funded Cecil Holland (Mentee)
Developing a Training Program in Breast Cancer Research (continuation). The purpose of this project is to plan a one-year training program for four(4) post-doctoral WSSU faculty members and two (2) research trainees on breast cancer research.
Role: Mentee (4%)
IRB Study # 961-05 Mary Mortimer (PI) November 2005
American Nurses Foundation Cecil Holland (CI)
Center for Innovation in Health Disparities
$10,000 - Funded
A Brief Intervention to Improve Illness Representation and Medication Adherence In Hypertensive Older Black Females. The purpose of this pilot study is to estimate the effectiveness of an intervention that focuses on changing illness perception in hypertension, medication adherence, and blood pressure levels.
Role: Co-Investigator (5%)
NC Center for Nursing Grant Program Cecil Holland (PI) August 1, 2006 – May 30, 2007
$10,000 – Not funded
The transition of registered nurses from clinical settings to academia. The purpose of this project is to develop strategies to improve the transition of registered nurses from the clinical setting to academia.
Role: PI (10%)