Jack Santiago Monell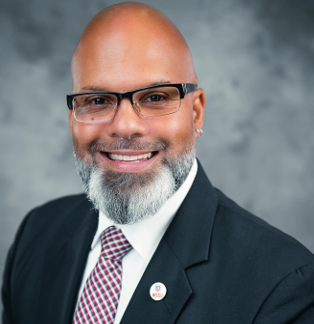 Position: Associate Professor and Program Coordinator of Justice Studies Department: History, Politics, and Social Justice
Contact Info
Office: 218 Coltrane Hall Phone: 336-750-2631 Fax: 336-750-2647 Email: monelljs@wssu.edu
Biography
Dr. Jack S. Monell is an Associate Professor and Program Coordinator of Justice Studies at Winston-Salem State University with over twenty years of working in the fields of social work, criminal justice and human services. A scholarly practitioner with a broad range of experiences (both personal and professional), he has worked for nonprofit, local, state and Federal government agencies. He is the author of "Delinquency, Pop Culture and Generation Why," a compilation of personal and professional accounts, interviews and music industry perspectives that aims to address the issues faced by generation y, or the Millennials.

Jack received his Ph.D. from Walden University, MSW from Howard University, and BA from Towson State University, respectively. In addition to his academic responsibilities, Dr. Monell had an appointment as the inaugural Faculty in Residence where he served in that capacity for four years working with Student Affairs, specifically Housing and Residence Life, programming for students through co-curricular activities.  His research interests focus on urban youth and their families, pop culture, and delinquency paradigm shifts. Dr. Monell completed a book chapter (Michigan State University Press) focusing on black masculinity and societal perceptions, particularly violent encounters with law enforcement.  Colleagues describe him as a strong proponent of giving young people a second chance at life. A student centered professor, he prides himself in connecting and understanding the needs of students inside and outside of traditional classroom settings.

On a national level, Dr. Monell serves as a consultant for local, state and Federal agencies. He is a member of the American Society of Criminology, Academy of Criminal Justice Sciences, and the North Carolina Criminal Justice Association

"Create your own opportunities or society will dictate them for you." - Dr. Monell
Educational Background
PhD, 2005, Walden University
MSW, 1999, Howard University,
BA,1997, Towson State University
Sociology Graduate Certificate, 2017, Appalachian State University
Research and Project Interests
School Punishment Correlations to Delinquency
Afro-Latino Male Masculinity, Criminality and Gangs
Community Based Programming (Juvenile/Adults) and Efficacy
Monell, J. (2018). "A Preliminary Examination of Hegemonic Masculinity: Definitional Transference of Black Masculinity Effecting Lethal Tactics against Black Males." In Ransaw, Gause, and Majors (eds.) Handbook of Research on Black Males. Michigan: Michigan State University Press. 
Monell, J. (2017). Juvenile Reformatories. In The Encyclopedia of Corrections (Eds.). Kent R. Kerley, Heith Copes, Spencer De Li, Jodi Lane, and Susan F. Sharp. Hoboken, NJ: Wiley-Blackwell.
Monell, J. (2017).  Residential Programs for Juveniles. In The Encyclopedia of Corrections. (Eds.). Kent R. Kerley, Heith Copes, Spencer De Li, Jodi Lane, and Susan F. Sharp. Hoboken, NJ: Wiley-            Blackwell.
Myers, Stephanie M., & Monell, Jack S. (2016). "Police Handling of Juveniles." Foundations in Criminal Justice, edited by Julie Campbell, Gale, 2016. Gale Researcher.
Nation, D., Henderson, D., & Monell, J. (2016).  The Interrelationships of Politicization of School Shootings, Focal Concerns & Racial Disproportionality in School Discipline Policies. In G. Crews (Ed.). Critical Examinations of School Violence and Disturbance   in K-12 Education. (pp. 39-61). Hershey, PA: Information Science Reference.
Monell, J. (2016). Justice Administration. Global Encyclopedia of Public Policy and Governance. (Ed.). A. Farazmand. Springer International Publishing.
Monell, J. & Spencer, B. (2015). A Phenomenological Analysis of African American Students, Delinquent Contact and Continued Academic Success. Journal of Knowledge and Best Practices in Juvenile Justice & Psychology. Vol. 9, No.1.
JUS 4344: Corrections
JUS/SOC 3353: Criminology
JUS 3347: Drugs, Crime and Justice
JUS 2301: Introduction to Justice Studies
JUS 3335: Justice Administration
JUS 3310: Police & Community
JUS 2302: Research Methods in Justice Studies
JUS 4330: Social Justice
SOW 3320: Special Topics - Forensic Social Work
JUS 3345: Strategic Approaches to Community Justice
JUS 3350: Victims and Justice
JUS 4302: Writing in Research in Justice Studies
"In interacting with students, I pride myself in being a student's professor, and being available to further their intellectual growth. It is our responsibility to assist students with developing the necessary critical thinking skills needed not only for the fields of Criminal Justice and Criminology, but for the entire academic process. More importantly, it becomes quite prudent in developing a learning environment that promotes intellectual diversity and cultural sensitivity. This component is very significant as we are living in a time where diversity is representative in all elements of society."