Dinesh K. Singh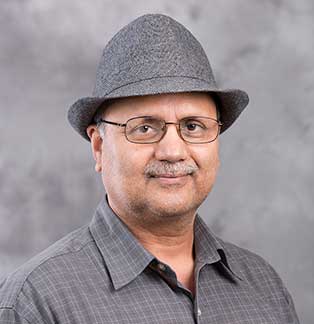 Position: Professor Department: Biological Sciences
Contact Info
Office: 217 F WBA Science Bldg. Phone: 336-750-8616 Fax: 336-750-3094 Email: singhd@wssu.edu
Educational Background
PhD, Veterinary Pathology, Indian Veterinary Research Institute, Izzatnagar, India
MVSc,Veterinary Pathology, Govind Ballabh Pant University of Agriculture and Technology, Pantnagar, Nainital UP India
BVSc and AH, Govind Ballabh Pant University of Agriculture and Technology, Pantnagar, Nainital UP India
Research and Project Interests
For more than 16 years, I have been fascinated by lentiviruses. I started working with Caprine Arthritis and Encephalitis virus and moved on to SIV, SHIV and HIV. My initial focus was to understand the role of primate lentiviral accessory genes on their pathogenicity using SHIV-macaque model. My experience was extended to research the development of a vaccine for HIV/AIDS. The current research focus in my lab is to test adjuvant activity of certain biomolecules to potentiate DNA vaccines for AIDS.
Cedric S. Rodney Distinguished Service Award-2012
Wilveria Bass Atkinson Distinguished Research Award-2011
Bill Sheppard Master Teacher Award- 2011
Potentiating an HIV/DNA vaccine with Flagellin at Cervical Vaginal Mucosa- NIH/ NCMHD. Dinesh K. Singh (PI), Steven Mizel (Co-PI).
Nanoparticles and HIV. Dinesh K. Singh (PI).
Modulation of Dendritic Cells against HIV-1. Dinesh K. Singh (PI).
Microbiology
Immunology
Virology
Histology
Cell biology
Team based teaching of advanced pathophysiology
Past teaching experiences (University of Kansas Medical
Center)
Virology (medical microbiology)
Diseases affecting central nervous system