Cynthia Williams-Brown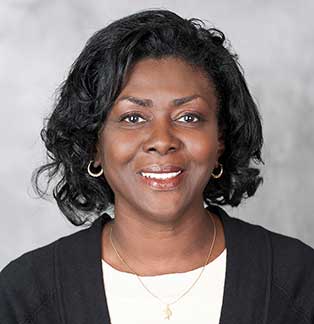 Position: Physical Education Program Coordinator Department: Health, Physical Education and Sports Studies
Contact Info
Office: 147B Anderson Center Phone: 336-750-2587 Email: williamsc@wssu.edu
Biography
Dr. Brown is currently Associate Professor and Coordinator for the Physical Education Program in the Department of Human Performance & Sport Sciences (HPSS). Dr. Brown's research interests include obesity prevention and intervention in children and college women; and cardiovascular disease interventions in women. She is also interested in community health outreach programs, especially those related to faith based institutions. Dr. Brown designs and conducts physical activity intervention for children, youth and adults. Her current research focuses on cardiovascular intervention targeting African-American women. Dr. Brown, a former high school physical education teacher and coach, became a member of the faculty at Winston-Salem State University in 1998. She is past chair of HPSS, having served in that role for 13 years. She serves on numerous university committees, is active in professional organizations, and is involved in work with the community.
Educational Background
PhD, 1998, University of South Carolina
MS, 1988, North Carolina Central University
BS, 1981, Shaw University
Brown, C. W., Shepperson, J., Gopalan, H., & El-Amin, S. (in press). HIV: Facts, fiction, and the impact on behavior of students at an Historically Black College/University. International Journal of Health Promotion and Education.
Graham, K. C., Ellis, S. D., Williams, C. D., Kwak, E. U., & Werner, P. H. (1996). High and low skilled target students' academic achievement and instructional performance in a 6-week badminton unit. Journal of Teaching in Physical Education, 15(4), 477-489.
Williams, C. D., Felder, D., Jacks, D. E. (2004). An examination of alcohol and drug behaviors among athletes at Historically Black University. The North Carolina Journal.
PED 4321 Middle & Secondary Physical Education Methods
PED 4612 Physical Education Internship
Student Teaching
PED 2302 Foundations of Physical Education & Sport
Brown, C. W., Pittsley, J., Kavas, A., & Ritsche, K. STEPS to a Healthier Heart. Presented at the 2012 HBCU/HSI Research Network Conference, Winston-Salem, NC (September 2012).
Brown, C. W. & Ritsche, K. Campus and Community Health Literacy Initiative. Presented at the 2011 2011 UNCFSP/NLM HBCU ACCESS Meeting, Bethesda MD (June 2011).
Brown, C. W., Ritsche, K., Rose, B. & Spinks, D. Effectiveness of a heart education program for women. Presented at the Southern District Convention of the American Alliance for Health, Physical Education, Recreation & Dance, Myrtle Beach, SC (February 2010).
Brown, C. W., Pittsley, J., Ritsche, K. and Kavas, A. The Relationship Between Anthropometric Measurements and Blood Lipid Profile in Young, African-American Women. Presented at the National Conference to End Health Disparities II: Faces of a Healthy Future in Winston-Salem, NC (November 2009).