Chinyu Wu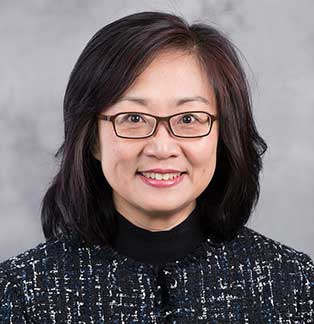 Position: Assistant Professor Department: Occupational Therapy
Contact Info
Office: FL Atkins, Room 444 Phone: 336-750-8962 Fax: 336-750-3173 Email: wuc@wssu.edu
Biography
Dr. Wu joined the faculty of Occupational Therapy in 2013. Dr. Wu earned her PhD and MA degrees in Occupational Therapy from New York University. Dr. Wu's specialty area is mental health, and her research interest includes disparities in mental health and program development for community mental health settings. At WSSU, Dr. Wu teaches courses related to occupational therapy practice in mental health, research methods and evidence-based practice.
Dr. Wu was originally from Taiwan. Before coming to WSSU, Dr. Wu had taught at other universities. She was the Delegate to World Federation of Occupational Therapists (WFOT) for Taiwan, and served for 6 years as the Chief Editor of WFOT Bulletin, the official publication, peer-reviewed journal of WFOT. Dr. Wu served as reviewers for a couple of journals, including American Journal of Occupational Therapy.
Educational Background
PhD in Occupational Therapy, 1999, New York University, New York, NY
MA in Occupational Therapy, 1995, New York University, New York, NY
BS in Occupational Therapy, 1991, National Taiwan University, Taipei, Taiwan
Research and Project Interests
Needs assessment and program development for a certified community behavior health clinic (CCBHC)
Occupational therapy at subsidized housing for emergency department (ED) frequent flyers
Instrument development and validation on activity participation for community-dwelling individuals with schizophrenia
Mental health screening at mobile clinic for underserved populations
Huang, L-J., Wu, C., Yeh, H-H., Huang, P-S., Yang, Y-H., & Fang, Y-C. (2016). Mediation Effects of Daily Activity Participation between Rumination and Subjective Quality of Life in Persons with Depression. Taiwanese Journal of Psychiatry, 30, 196-205.
Huang, L-J., Wu, C., Wu, C-H., Huang, P-S., Yeh, H-H., Yang, Y-H., & Fang, Y-C. (2015). Validation of the Ruminative Response Scale-Chinese Version (RRS-C) for Persons with Depression in Taiwan. Taiwanese Journal of Psychiatry, 29, 119-131.
Wu, C-H., & Wu, C. (2014) Satisfaction with life scale and schizophrenia. In: A. C. Michalos (Ed.), Encyclopedia of quality of life and well-being research. Amsterdam, Netherlands: Springer. ISBN 9789400707528 (In Press)
Wu, C-H., Wu, C. (2008). Satisfaction with Life Scale: Internal consistency and factor structure in persons with schizophrenia living in the community. Social Indicators Research, 85, 447-460. SSCI
Wu, C., Hwang, M-T, & Yeh, H-H. (2007). Teaching evidence-based practice during psychiatric fieldwork placement for occupational therapy students: The experience of a university hospital in Taiwan. WFOT Bulletin, 56, 32-36.
Tsai, C-Y., Lee, H-L., Tan, K., & Wu, C. (2002). Effectiveness of an independent living skills training group for clients with chronic psychiatric illness [Chinese]. Journal of Occupational Therapy Association, R.O.C., 20, 1-10.
Wu, C. (2001). Facilitating intrinsic motivation in individuals with psychiatric illness: A study on the effectiveness of an occupational therapy intervention. Occupational Therapy Journal of Research, 21, 142-167. SSCI
Wu, C., Chen, S-P., & Grossman, J. (2000). Facilitating intrinsic motivational among clients with mental illness who have motivational deficits. Occupational Therapy in Mental Health, 16(1), 1-14.
Wu, C., & Hwang, M-T. (2000). Evaluating motivational deficits in individuals with mental illness: Chinese General Causality Orientations Scale. Occupational Therapy International, 7, 57-77.
OCC 5308 Therapeutic Interactions
OCC 6308 Psychosocial Basis of Occupation
OCC 5302 Evidence-based Practice
OCC 5313 Methods of Inquiry
OCC 5212 Conducting Occupation-based Research
OCC 6215 Research Writing & Dissemination
"Learning without thought is labor lost, thought without learning is perilous". -- Confucius
子曰:「學而不思則罔,思而不學則殆。」
2008- World Federation of Occupational Therapists (WFOT), Certificate of Service