Walk in Simon Green Atkins' footsteps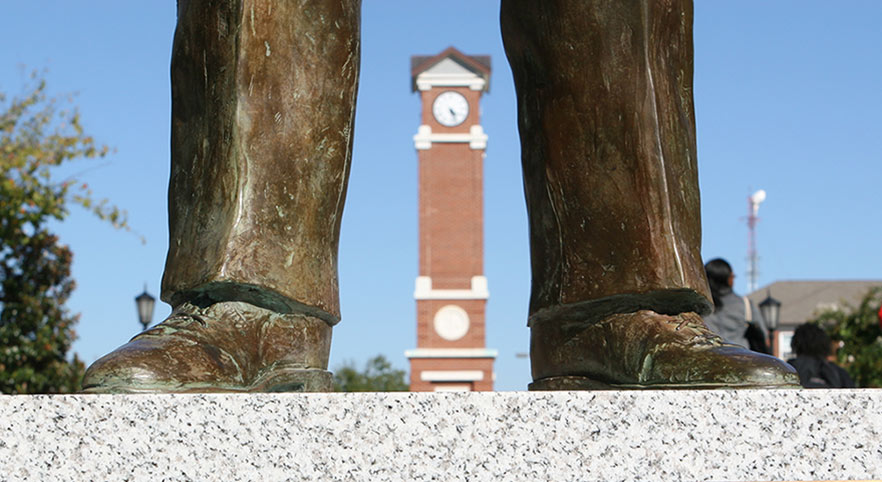 This article first appeared in Archway Magazine.
Simon Green Atkins' vision has not been forgotten. His influence can be seen not only through the landscape, but also through the mission and values of Winston-Salem State University, the institution he founded in 1892.
The oldest son of former slaves, Simon Green Atkins was born on a North Carolina farm in 1863. Over 71 years, he dedicated his life to improving the lives of African Americans in North Carolina.

In celebration of WSSU's 125th anniversary, here are seven ways you can see WSSU's founder as you walk on campus.
S.G. Atkins House
Atkins not only led in the development of the Columbian Heights neighborhood, he and his family were the first residents around 1893. He and his family lived in this two-story home for more than 20 years. In 2002, the house was moved three blocks away to its current location and renovated. It is currently home to the Alumni Association and the Passport Office.
Alumni House
The Alumni House, across the street from the historic S.G. Atkins House, was built for Atkins and his family in 1924. WSSU's presidents and chancellors lived in this two-story brick home until the mid-1990s when a new home was obtained for the chancellor. The building was renamed the Alumni House. Currently, it is home to the Office of Integrated Marketing and Communications.
Bell/The Historic Lawn
The lawn between Blair and Carolina halls is home to the university's the historic bell, which dates to 1900 and was used to signal when it was time to change classes or attend other campus activities. Today, this area is being reimagined as a Zen Zone, a quiet space for students, with hammocks, updated park benches, and a gazebo.
Clock Tower/Pedestrian Mall
The clock tower, which was added to campus in 2004, signals for students the top of each hour. At 40-feet-tall, the landmark displays quotes from Atkins; poet and civil rights activist Maya Angelou; former Chancellor Harold Martin; and author and civil rights leader Benjamin E. Mays. During the school year, this area is one of the most popular places on campus for students to socialize.
Simon Green Atkins Statue
A statue of Atkins was erected in front of O'Kelly Library in 2005 after the installation of the pedestrian mall. Elizabeth Heath King, who also created the R.J. Reynolds statue on North Main Street in Winston-Salem and hundreds of others, was the sculptor. On Sept. 28, Founder's Day, a wreath is placed near the statue to remember Atkins.
Archways
The archways were built in the early 1930s and once served as an entry point the campus. In 1936, the graduating class had plaques added to the arches honoring Atkins and his wife Oleona Pegram Atkins. Since 2009, each new class of students is escorted through the archways to symbolize their induction into the Ram Family. The arches also are symbolized in WSSU's new logo.
Carolina Hall
Atkins walked the halls of Carolina Hall, the oldest classroom building on campus. The home of the College of Arts, Sciences, Business and Education was built by students in 1925 with bricks created from the campus brick yard. Carolina Hall was the main academic and classroom setting on campus and home to the first library.
Want to explore a bit more? Here are even more ways Atkins' legacy continues:
Pegram Hall: Built in 1937 and dedicated March 19, 1939, Pegram Hall was a female resident facility for many years. It is named in honor of Atkins' wife, Oleona Pegram Atkins. As an educator and wife of the president, Pegram held numerous positions during her tenure at what was then Slater Industrial Academy and Normal School, most notably as an English teacher and assistant principal.
Atkins Hall: The new Atkins Hall opened in 1978, replacing the original female residence hall, which was erected in 1915 and named for S.G. Atkins. The six-story residence hall is for freshmen female students.
F.L. Atkins Building: This building is named for Frances Loguen Atkins, Dr. S.G. Atkins' son, who succeeded his father as president of WSSU in 1934. The building is home to WSSU's School of Health Sciences.
S.G. Atkins Community Development Corp.: Atkins' legacy of community engagement continues through the S.G. Atkins CDC, a non-profit located about a mile from campus at the Enterprise Center.