WSSU announces faculty promotion and tenure awards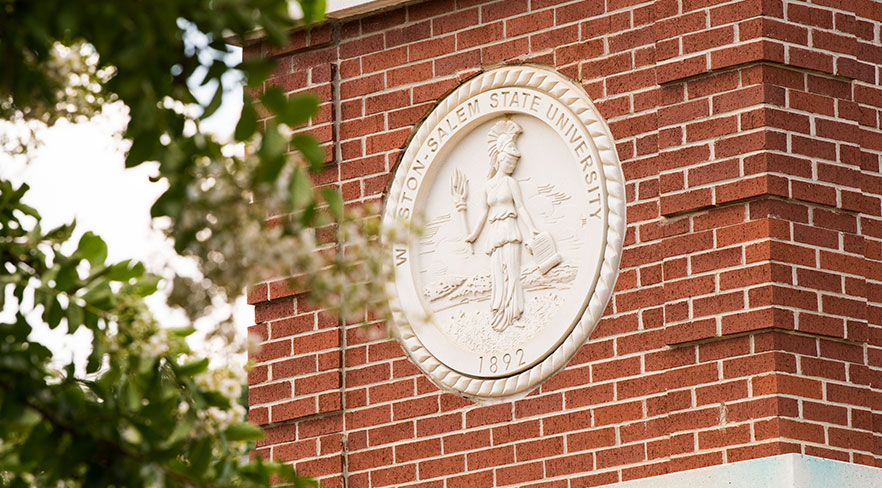 Winston-Salem State University (WSSU) rewards 16 faculty members for their outstanding performance with tenure and/or promotion in academic rank for the 2020-21 academic year.
This total includes nine faculty members awarded tenure and promotion to associate professor and seven promotions in academic rank to professor, effective July 1.
"We are very proud of these outstanding educators, scholars, and researchers for their commitment to their disciplines and to the growth and success of our students," said Anthony Graham, provost and vice chancellor of Academic Affairs at WSSU. "Their innovative work is not only developing a generation of leaders who will perform on a global scale and affect change in our society but also enhancing our institutional intellectual climate by encouraging the creative exchange of ideas." 
The faculty earning tenure and promotions are:
Jasmine Barber, associate professor of nursing. Her experience and interests are in obesity prevention, wellness, and decreasing health care disparities. She is a practicing family nurse practitioner in urgent care and a community non-profit clinic. Currently, Barber teaches in the Family Nurse Practitioner and Doctor of Nursing Practice graduate programs. She received her bachelor's degree from North Carolina Agricultural and Technical State University. She later earned a master's degree in nursing from WSSU and a Ph.D. in Nursing Practice from Rocky Mountain University of Health Professions.
Cynthia Bell, professor and chair of the Department of Occupational Therapy. She is an inaugural faculty member in the department with over 20 years of service at WSSU. She has been recognized nationally as an advocate for workforce diversity in occupational therapy and for her volunteer leadership to the profession. In 2018, she was awarded the University of North Carolina Board of Governors Teaching Excellence Award and the Roster of Fellows Award by the American Occupational Therapy Association. She recently secured a $3.5 million Scholarship for Disadvantaged Students grant from the Health Resources and Services Administration and is a grant team member on the interprofessional Administration for Community Living Falls Prevention and United Way REACHE grants. She strives to model and emphasize community engaged scholarship to address health disparities and health inequities.
Carol L. Cain
, associate professor of accounting in the Department of Accounting, Economics, and Finance. She holds a bachelor's in accounting from Central Connecticut State University and a Ph.D. in Business Administration from the University of Michigan-Ann Arbor. Cain's research interests include the strategic reporting of accounting information and accruals, managers' and analysts' decision-making and behaviors, accounting pedagogy, financial literacy education, and investigating African American participation in the accounting profession. Her articles have appeared in "The Journal of Accounting and Economics, Management Science," "Journal of Management Studies," "The Tennessee CPA Journal," "The CPA Journal," and "The Journal of Higher Education Theory and Practice." She was recently awarded two grants by the Big Four accounting firm PricewaterhouseCoopers (PwC). Cain serves on several on campus committees, including the 
Faculty Senate. She is the faculty advisor for the WSSU student chapter of the National Association of Black Accountants (NABA). She is also a member of the Center for Smart Financial Choices board and has led many financial literacy workshops for students both on and off campus. 
Robin Dock, professor of rehabilitation counseling. She is a licensed clinical mental health counselor supervisor in the state of North Carolina and a licensed professional counselor in Georgia. Dock is nationally approved and/or certified as a clinical supervisor, rehabilitation counselor, and forensic mental health evaluator. She received her bachelor's and master's degrees from Ball State University in deaf education and counseling psychology, and a Ph.D. in Counseling Psychology from the University of Georgia. Dock teaches several courses in the rehabilitation curriculum. She provides clinical supervision for students during their fieldwork experiences and post-graduate degree clinical supervision to associate level counselors working toward their full license as a clinical mental health counselor. She was awarded Rehabilitation Services Administration Long Term Training grants that support students pursuing graduate degrees in Rehabilitation Counseling with an emphasis in consumers who are deaf or hard of hearing. Dock is published in peer-reviewed journals and presents at local, regional, national, and international conferences on a variety of topics that include healthcare disparities among Deaf/ASL-users and the infusion of multicultural counseling competencies throughout the counseling profession curriculum. She holds memberships in several counseling organizations including the American Counseling Association, the American Rehabilitation Counseling Association, the National Association of Multicultural Rehabilitation Concerns, and the American Psychological Association.
Alice Etim, professor of management, marketing, and MIS. She joined WSSU's faculty in 2010, shortly after receiving her Ph.D. from the University of North Carolina at Chapel Hill's iSchool. Etim has published many peer-reviewed journal articles and book chapters in her field. Her research and published works include information and communication technology adoption, diffusion, use and impact in business organizations, project teams, economically disadvantaged groups and women. She has contributed extensively to research in mobile technologies for service delivery - mobile money and payment systems, mobile commerce, mobile health and telemedicine, and microfinance, and information and communication technology (ICT) for sustainable development/poverty reduction. Etim is currently the editor-in-chief of the "International Journal of ICT Research in Africa and the Middle East." In 2014, she received WSSU's Willie Burke Master Teacher Award. She also engages her students in research/scholarship and conference attendance/presentations nationally and globally. Etim is a two-time award recipient of the International Education and Carnegie Mellon Foundation's Carnegie African Diaspora Fellow Award. She is a Center for the Study of Economic Mobility research fellow at WSSU and the recipient of several Bravo/Publication awards from IBM Corporation and the recipient of the 2010 E. J. Josey Award for her work on the digital divide. 
Muztaba Fuad, professor of computer science. His research interests include mobile computing, software engineering, and computer science education. His research activities have resulted in several National Science Foundation-funded works and numerous publications in prestigious journals and proceedings. He is currently the principal investigator of an NSF grant to develop a mobile-based system to improve student learning and engagement. He has collaborated with faculties within various department on campus and other computer science faculties around the country. Under his supervision, graduate and undergraduate students have produced research that is published in peer-reviewed publications, presented at conferences and showcased at the university's Board of Trustees meeting. Fuad is a professional member of the Association for Computing Machinery (ACM) and ACM Special Interest Group on Computer Science Education with active involvement in the professional arena. He is a computer science program evaluator for the Accreditation Board for Engineering and Technology Inc. and promotes evidence-based approaches in assessing, evaluating, and continuously improving computer science programs. Fuad is the recipient of the Wachovia Excellence in Teaching Award and Wilveria B. Atkinson Distinguished Research Award at WSSU.
Breonte Guy, associate professor of psychological sciences. Guy teaches a range of courses in the Department of Psychological Sciences and works with students from various majors on undergraduate research projects in his Changing the Narrative in Science, Technology, Engineering and Math (STEM) laboratory. His research explores minority STEM interest and identity through targeted educational interventions. He is currently serving as either PI or Co-PI on two National Science Foundation-funded grant projects investigating learning and motivation in STEM.
Clay Harshaw, associate professor of health, physical education, and sports studies. Since 2012, he has served as the program coordinator of the motorsports management major. His research interests are in motorsports marketing, risk management, and competitive balance. Harshaw serves as the editor of the "International Journal of Motorsports Management," an academic journal serving academics and practitioners in the motorsports industry. Additionally, he has served as the coordinator of the Diversity in Motion Initiative, a program to introduce careers in the motorsports industry to under-represented youth.
Gregory Henderson, associate professor of rehabilitation counseling in the Department of Human Performance and Sport Sciences. Two of his primary research interests are the impact of mental illness, alcohol, and drugs on the learning and development and retention paradigm. He is a licensed substance abuse specialist and professional counselor, and a certified rehabilitation counselor. He completed his undergraduate work in health and physical education/recreation at the University of North Carolina at Pembroke. He has a master's degree in rehabilitation counseling from WSSU and a Master of Human Resources, Learning and Development from Barry University in Miami Shores, Florida. He earned a doctorate in urban education from Cleveland State University. Henderson has presented and served as a consultant at national and international conferences. He is also a licensed administrator, health and physical education teacher.
Yuan Li, professor of mathematics. Li received his Ph.D. in Mathematics from State University of New York at Buffalo. He joined WSSU in 2008. In his career, he has taught more than twenty different mathematics courses from lower level general education courses to higher level math major courses and supervised student research. His research interests lie in number theory, discrete mathematics, combinatorics and their applications in information theory, computer science and bioinformatics. He received external and internal research grants and has published twenty-four original research papers in international mathematics, information theory and computer science journals. He is a reviewer of "Mathematical Reviews" published by the American Mathematical Society.

Chad Markert, associate professor of exercise physiology. He earned his Bachelor of Science degree in Movement Science/Kinesiology from the University of Michigan, his master's degree in exercise physiology from Eastern Michigan University, and his Ph.D. in Exercise Physiology with emphasis in skeletal muscle physiology from The Ohio State University. He completed National Institute of Health-funded postdoctoral research fellowships at the University of Missouri and the Wake Forest Institute for Regenerative Medicine. His research interests include STEM education, regenerative medicine, mechanisms of sterile inflammation following contraction-induced injuries, and muscular dystrophy.
Keisha Rogers, associate professor of rehabilitation counseling. She is a certified rehabilitation counselor and is licensed clinical mental health counselor and clinical addictions specialist. Since joining WSSU's faculty, Rogers has been awarded grants through the university's Research Initiation Program and the Center for the Study of Economic Mobility (CSEM). She has also been recognized as a CSEM Fellow. Her research focused on COVID-19, race, disability, and poverty was one of three projects recently selected to receive funding from the UNC Board of Governors and the North Carolina Policy Collaboratory at UNC-Chapel Hill. In recognition of her excellence in multicultural rehabilitation education, Rogers received the Sylvia Walker Educator Award from the National Association of Multicultural Rehabilitation Concerns in 2016. Her other scholarly achievements include eleven published peer-reviewed articles and four book chapters focused on clinical supervision, multicultural issues in counseling, and co-occurring disorders. She has collaborated with students and colleagues and presented research at national and international conferences. Rogers was recently invited by the Colombo Plan Drug Advisory Programme to facilitate training in Nassau, Bahamas focused on teaching evidence-based addiction treatments for vulnerable populations to other practitioners. Rogers has served on the executive board of the National Association of Multicultural Rehabilitation Concerns since 2017.
Nancy Smith, associate professor of Physical Therapy. Smith received her Master of Physical Therapy and Doctor of Physical Therapy degrees from Saint Louis University, and her Ph.D. in Curriculum and Instruction with a specialization in learning design and technology at North Carolina State University. She is a certified clinical specialist in geriatrics from the American Board of Physical Therapy Specialists and is a credentialed clinical instructor. Prior to joining WSSU's faculty, she practiced physical therapy in geriatric settings and acute care settings for 11 years. Her experiences have ranged from practicing as a staff level therapist to managing multiple skilled nursing facilities clinically and operationally. At WSSU, she has served in the Physical Therapy Department's Pro-Bono Clinic, as a Faculty Fellow with WSSU's Center for Innovation and Transformative Instruction from 2019-21, developed new courses, published articles with colleagues, and obtained grants to support interprofessional community engagement through interprofessional practice. Smith's research focuses on the effects of mobile technology on clinical reasoning and interprofessional education using human patient simulation, community engagement, and standardized patients.
Dawn Tafari, associate professor in the Department of Education. Tafari is passionate about the arts, culture, education, and translating theory into practice. She earned her bachelor's degree in psychology from Hofstra University in Hempstead, Long Island; her Master of Arts in Teaching from Johns Hopkins University; a post-baccalaureate certificate in women's and gender studies and her Ph.D. in Educational Studies with a specialization in cultural studies from the University of North Carolina at Greensboro. Tafari has authored dozens of journal articles and book chapters. She has also presented at conferences across the country, as well as in South Africa, Jamaica, and Canada, on a variety of topics related to hip-hop feminism, Black male elementary school teachers, and culturally relevant teaching. She is the 2017 recipient of the WSSU and Wake Forest University Dr. Martin Luther King, Jr. "Building the Dream" Award and has been featured in the Winston-Salem Chronicle as "Busta Brown's Person of the Week." She is the co-founder of the Greensboro Kwanzaa Collective, a grassroots organization that organizes Greensboro's citywide Kwanzaa celebration. Tafari is also a proud member of Alpha Kappa Alpha Sorority Inc.
Jinghua Zhang, professor of computer science. She earned a master's degree and a Ph.D. in computer science and engineering from Michigan State University. Her research and project interests include game-based learning, computer graphics, virtual reality, and computer science education. In 2011, Zhang received a fellowship with the NSF TRUST (Team for Research in Ubiquitous Secure Technology). She won WSSU's Wilveria B. Atkinson Distinguished Research Award in 2014 and was selected for Google's Faculty in Residence program in 2018. She has served as the principle investigator for several grants. Zhang currently manages two NSF grants equaling more than a half a million dollars. Her publications can be found in the "Journal of Cybersecurity Education, Research and Practice," "Journal of Computing Sciences in Colleges," and "International Journal of Virtual Communities and Social Networking," just to name a few. Several of her papers have been selected for national and international conferences.
J.
Lei Zhang
, professor of chemistry in the Department of Chemistry. He holds a bachelor's degree in space physics from the University of Science and Technology of China, a Master of Science degree in AstroPhysics from Florida International University, and a master's degree in math from Louisiana Tech University. He earned a Ph.D. in Applied Physics from the University of Texas at Arlington. Zhang's research and project interests include electro-optical properties of crystalline materials, non-linear optics and optical telecommunication, and fiber-optics and devices. His research is published in several peer-reviewed journals including the "Physical Review and Research International," "Journal of North Carolina Academy of Science," "Molecular and Cellular Biochemistry," and "Physical Review Letters."