Football & Homecoming Protocol Update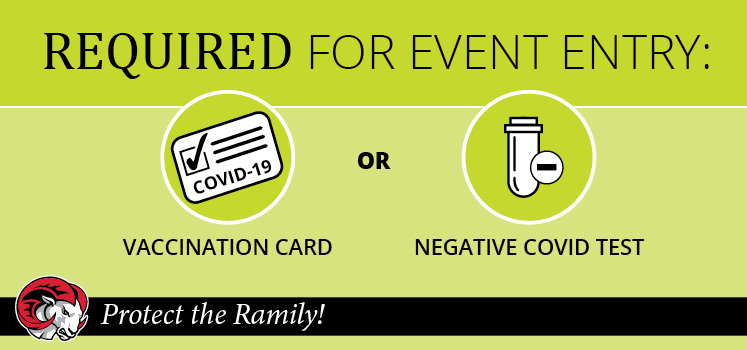 Winston-Salem State University is excited to welcome supporters back to campus for sports and other community events. To keep all our patrons safe, we will implement additional Covid-19 safety protocols. These protocols will be effective immediately for all WSSU events.
VACCINATION OR TESTING REQUIREMENT
Beginning September 25, all WSSU event patrons will be required to show proof of full COVID-19 vaccination or documentation of a negative COVID-19 test result collected no more than 72 hours before entry to an event. Individuals are considered fully vaccinated two weeks after their final dose. 
PCR and rapid antigen test results are acceptable.
Masks will be required for indoor and outdoor event venues, including Bowman Gray Stadium.
The requirement will apply to individuals who are 12 years of age or older.
Acceptable forms of vaccination proof include vaccination cards, photocopies of vaccination cards, or digital records from a health care provider or pharmacy.
Acceptable forms of COVID-19 test results include hard or digital copies from a health care provider or pharmacy.
Vaccination verification through the free mobile applications VaxYes or CLEAR Pass are also accepted.
A valid ID will be required to verify vaccination and testing records. ID will not be required for guests under 18.
TESTING & VACCINATION SITES
WSSU has an on-campus Covid-19 testing site at the Anderson Center that is open to the public. PCR and rapid antigen tests are available. Testing is by appointment only. Make an appointment for Covid-19 testing.

Public Testing Hours:
Monday: 7 a.m. – 3 p.m.
Wednesday: Noon – 7 p.m.
*WSSU faculty and staff may participate in these testing times.
Student Testing Hours
Monday: 7 a.m. – 3 p.m.
Tuesday: By appointment at Student Health Services
Wednesday: Noon – 7 p.m.
Thursday: By appointment at Student Health Services
Friday: 9 a.m. – 3 p.m.
Testing and vaccination are available at many locations throughout Forsyth County.

Find your closest testing site.
Find your closest vaccination site.
WSSU FOOTBALL
These additional protocols will be in place for the start of football season. Fans will be required to show proof of vaccination or negative Covid-19 test. Everyone in attendance will be required to wear a mask inside Bowman Gray Stadium.

Vaccination and testing verification sites will be located in several parking areas around the stadium and on campus. They will be easily visible and marked with green flags. Fans should have their verification before heading to entry gates. Verification will not be available at entry gates.
Guests holding valid game tickets who cannot present appropriate documentation will not be allowed inside the event. Patrons that have tickets but do not wish to participate in this new requirement will be eligible for a refund of the ticket price. Parking fees will not be refunded. 
WSSU HOMECOMING
WSSU will implement these protocols for all homecoming events except tailgating at football games. Fans will not need to complete verification to participate in tailgating but must be verified before entering the stadium. Students, alumni, and supporters should expect to participate in vaccination and testing verification for all university-sanctioned events. Masks will be required inside the football stadium and for all events.
PLEASE NOTE: All homecoming activities and event restrictions are subject to change at any time. We will share changes as quickly as possible.