Alvin Atkinson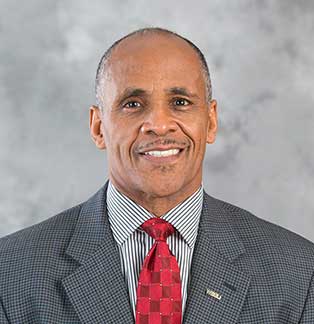 Position: Director Department:
Contact Info
Office: Carolina Hall 130 Phone: 336-750-8206 Email: atkinsona@wssu.edu
Biography
Alvin L. Atkinson is the Director of the Initiative for Just & Sustainable Communities (IJSC)the Executive Director of (CCS) at Winston-Salem State University and a nationally recognized expert in university and community collaborations. Alvin was named the Director of the IJSC in February 2016 after serving ten (10) years of serving as the Executive Director of the Center for Community Safety (CCS) at WSSU. As Director of the IJSC, Alvin initiates, facilitates and coordinates the delivery and institutionalization of interdisciplinary action oriented academic programs that enhance university and community collaborations and build commitments to social justice. He is also responsible for the synchronization of scholarship, research, and collaboration with leading practitioners and policy makers at both a local and national level for increasing capacity for all citizens to thrive. Alvin was recruited to join CCS in 2001 after a successful corporate career as Vice President of Wachovia Bank and President & COO of Victory-Masonic Mutual Credit Union. Consequently, since graduating from Davidson College in 1981, he has spent his entire professional career in Winston-Salem.
Educational Background
BA, Davidson College 1981
"Disproportionate Minority Contact (DMC) in the North Carolina Juvenile Justice System Assessment Report", Tiffany Baffour, PhD, Richard Moye, Jr., PhD, Pedro Martinez, PhD, Dawn Henderson, PhD, Loring Greaux, Jaime Mendenhall, Winston-Salem State University, Winston-Salem, 2013

"Putting Research into Practice: An Inside Look at the Winston-Salem Smart Policing Initiative (SPI)," CenterFlash, Shining a spotlight on current practices and issues in criminal justice, Winston-Salem State University, Winston-Salem, N.C, 2011
"2010 Forsyth County Comprehensive Gang Assessment", John M. Eason, PhD, Arizona State University, School of Criminology and Criminal Justice, Winston-Salem, 2010

"A Multi-City Comparative Study of Community Engagement, Mobilization, and Capacity in the Overt Drug Market Elimination Initiative a.k.a. "The High Point Model", Joanne Davidson, Winston-Salem, 2008

"From Incarceration to Community: The Weed and Seed & Americorps*VISTA Reentry Initiative, 2007 Case Studiers-Partnering for Public Safety", Joanne Davidson, Winston-Salem, 2007

"Understanding Disproportionate Minority Contact in Forsyth County", Okori Uneke, PhD, Kristen DiLuca, Winston-Salem, 2006

"Prisoner Reentry: Addressing the Challenges in Weed and Seed Communities", Amy L. Solomon and Tobi Palmer, Urban Institute, Washington, DC. Joanne Davidson and Lynn Harvey, PhD, Winston-Salem, 2006
2007 Emerging Leader of the Year Award Winston-Salem Urban League
1998 Black Achievers in Business/Industry Award Winston-Salem Black Achievers