Ivey L. Brown, Jr.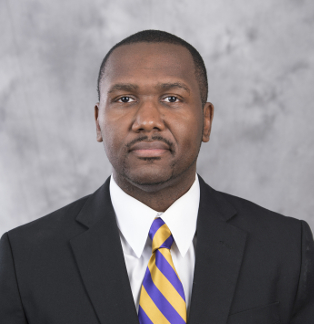 Position: Chief Legal Counsel Department: Office of Legal Affairs
Contact Info
Office: 125 Blair Hall Phone: 336-750-2108 Email: browniv@wssu.edu
Biography
Ivey L. Brown currently holds the role of Chief Legal Counsel at Winston-Salem State University (WSSU) and has proudly served WSSU in this capacity since 2016. In this role, Dr. Brown provides legal and business advice on a broad range of issues facing WSSU and other historically black universities in the University of North Carolina System including employment law, student issues, and contracts.
Preceding his position as Chief Legal Counsel, Dr. Brown served as Associate University Counsel for 10 years and served intermittently as an adjunct professor at WSSU teaching healthcare law and ethics for the School of Health Sciences.  Prior to joining WSSU in 2006, Dr. Brown interned for three years at the North Carolina House of Representatives where he worked with lobbyists and constituents to achieve the legislative goals of state representatives.
Dr. Brown is very active in his community.  He is a member of Omega Psi Phi Fraternity, Inc., a founding board member of Winston-Salem's Camel City Jazz Orchestra, and the Twin City High School (a charter school planned for the Triad). He has volunteered with the Big Brothers Big Sisters Senior Academy as a mentor, and he currently serves as a mentor to undergraduate students through the WSSU Elite Lawyers in Training Program. Within the legal community, Dr. Brown volunteers his legal services as a member of the North Carolina, Winston-Salem, and 21st Judicial District Bars and he was admitted to practice before the United States Supreme Court in 2013. Dr. Brown's involvement and accomplishments in the community have earned him several awards, including The Business Journal 40 Leaders under Forty (2013), Young Dreamers' Award (2014), WSSU 40 under 40 (2015), and ECU 40 under 40 (2018).
As he greatly values education, Dr. Brown earned an Associate's degree in English from Craven Community College, an undergraduate degree in English and Communications from East Carolina University 2003, a law degree from the University of North Carolina at Chapel Hill 2006, and his MBA from WSSU. In December of 2018, he completed his doctorate in education from the University of Nebraska-Lincoln.
Educational Background
Doctorate of Education, 2018, University of Nebraska-Lincoln
Juris Doctor, 2006, UNC Chapel Hill
Master of Business Administration, 2011, Winston-Salem State University
B.A. in English and Communications, 2003, East Carolina University
A.A. in English, 2003, Craven Community College