Raisha Cobb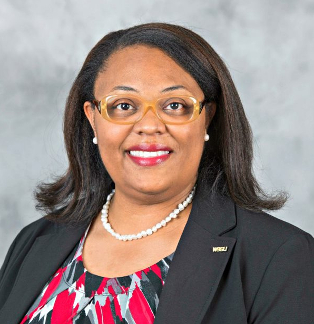 Position: Associate Provost for Information Resources Department: Office of Information Technology
Contact Info
Office: Elva Jones Building, Room 1209 Phone: 336-750-2092 Email: cobbr@wssu.edu
Biography
Raisha Cobb appointed Associate Provost and Chief Information Officer at Winston-Salem State University effective Monday, January 4, 2021.
Mrs. Cobb most recently served as the Acting Associate Provost and Chief Information Officer at Winston-Salem State University from September 2019 to December 2020. In this capacity, she worked collaboratively with university senior administrators, faculty, and staff to stabilize and enhance the institution's network and infrastructure, increase the use of digital technology to automate and streamline processes, expand the use of the service request platform to other student service campus departments, and negotiate favorable contract terms and pricing for student success services and applications.
Before this interim appointment, Mrs. Cobb served as the Deputy Chief Information Officer and Chief Information Security Officer in the Office of Information Technology (OIT) at WSSU from January 2016 to September 2019. In this role, she developed and implemented an information security program to include policies, procedures, and standards. She worked collaboratively with the OIT team to develop security guidelines and safe practices for university-wide computing and networking systems relating to technology acquisition, implementation, and operation. Additionally, she worked to implement service level agreements on IT service requests that include monitoring and response requirements and deficiency reporting and streamlined and automated the Banner Enterprise Resource Planning System and ancillary application access request process.
Mrs. Cobb's extensive experience includes five years of service as the Assistant Information Security Officer at the University of Texas at Arlington as well as 11 years of service to the National Aeronautics and Space Administration (NASA), where the success of Space Shuttle missions and the survival of astronauts depended upon the performance of critical systems entrusted to her team. She received the NASA Appreciation Award for outstanding support to Kennedy Space Center amid hurricanes, the United Space Alliance (USA) Employee of the Month for Teamwork for the Information Management Backup System Upgrade Team, and the USA Superior Achievement Recognition Award (SARA) for Post Hurricane Ike Data Center Recovery. She is well respected among her peers across the UNC System, and she is actively engaged in national Information Technology professional organizations.
Educational Background
MS Technical Management, Embry-Riddle Aeronautical University
BS Information Systems Technology, University of Houston