Alice S. Etim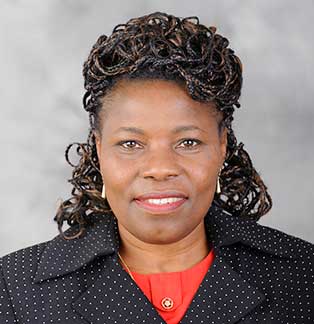 Position: Interim Chair and Associate Professor of Management Information Systems Department: Accounting and Management Information Systems
Contact Info
Office: 132 RJ Reynolds Center Phone: 336-750-8713 Fax: 336-750-2335 Email: etima@wssu.edu
Biography
Dr. Alice S. Etim is both an expert in researching and teaching of Information & Communication Technology (ICT).  Her research spans ICT adoption, diffusion, use and impact in business organizations, project teams and the Bottom of the Pyramid (BOP) populations. She has published several peer-reviewed journal articles and book chapters on ICT adoption and diffusion in various world regions, mobile commerce (mCommerce), mobile health (mHealth), microfinance and applications of mobile technologies for service delivery and sustainable development. Dr. Etim has participated and presented at many academic and business conferences in the U.S.A and Africa. She is the Interim Chair and Associate Professor of Management Information Systems in the Department of Accounting & Management Information Systems at Winston-Salem State University (WSSU). Dr. Etim teaches several courses including Internet Technology (MIS 2312), Systems Analysis & Design (MIS 3340), Web Systems Development (MIS 4340), a Liberal Learning Seminar course on Mobile Phones & Technologies (Upward Mobile) and Project Management at both undergraduate and graduate levels (MIS 3320 & MIS 6356).  Dr. Etim earned a PhD in Information and Library Science from the iSchool at the University of North Carolina at Chapel Hill, MSBA in Business Information Systems from Mississippi State University and MBA from Delta State University. Prior to coming to WSSU in August 2010, Dr. Etim worked for IBM Software Group for 12 years and held various job titles including Staff Software Engineer. She authored several technical papers for the IBM developerWorks Journal and over 200 IBM internal working papers. Dr. Etim is the recipient of five Bravo/publication awards from IBM Corporation and the 2010 E. J. Josey Award for her work on the Digital Divide. In addition to her service to the WSSU Community, Dr. Etim serves as Associate Editor for the International Journal of Information & Communication Technology for Research and Development in Africa (IJICTRDA); she volunteers also on the Board of MODISE, Inc. and Jaesons Internation Foundation. Dr. Etim is a certified Project Management Professional (PMP) and has managed medium to large scale projects.
Educational Background
PhD, Information Science, University of North Carolina at Chapel Hill, NC.
MS, Business Information Systems, Mississippi State University, Mississippi State, MS.
MBA, Delta State University, Cleveland, MS.
BS, Management Studies, University of Jos, Nigeria
Etim, Alice S. (2013). Managing content for information centers and large repositories using the DITA framework. Journal of Technology Research, 4.

Etim, Alice S. (2013). Mobile technology adoption for microfinance delivery in Sub-Saharan Africa. Research in Business and Economics Journal (RBEJ), 7.

Etim, Alice S. (2012). The emerging market of Sub-Saharan Africa and technology adoption: Features users desire in mobile phones. International Journal of ICT Research and Development in Africa. 3(1), 14-16.

Etim, Alice S. (2011). Bottom-up business development: Empowering low income societies through microfinance and mobile technologies. International Journal of Humanities & Social Sciences, 1(13), 1-11.

Etim, Alice S. (2011). Microfinance delivery in Sub-Saharan Africa using mobile technologies: Example from Nigeria. Sixth Annual Microfinance Conference Report, UNDP and University of Cape Coast Press, 29 – 47.

Etim, Alice S. (2011). The adoption and diffusion of information and communication technology in the Base of the Pyramid populations of Sub-Saharan Africa: A study of Nigerian students, published thesis, UMI Proquest Dissertations & Theses.

Etim, Alice S. (2009). The role of information and communication technology in impacting change in Africa: A case study of the Nigerian Internet café, in James, Valentine and Etim, James, ed. Educational Reform in Africa: Essays on Curriculum, Libraries, Counseling, and Grade Levels. Lewiston, N.Y: Edwin Mellen Press, ISBN10: 0-7734-4849-7.

Etim, Alice S. (2005). Integrating technology and the Internet in middle school classrooms. In Etim, James, ed. Curriculum Integration K-12: Theory and Practice. Lanhan, MD: University Press of America.

Etim, Alice S. (2004). Debugging IBM WebSphere Application Server Version 5, IBM WebSphere Developer Works, May.