Dennis Felder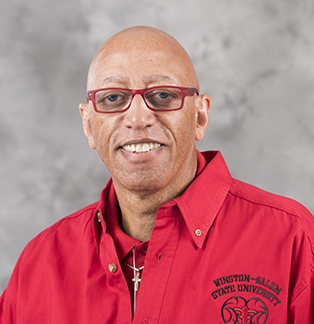 Position: Associate Professor and Program Coordinator of Sport Management Department: Health, Physical Education and Sports Studies
Contact Info
Office: Suite 143-A Anderson Center Phone: 336-750-2583 Email: felderd@wssu.edu
Biography
Dr. Dennis Felder is an Associate Professor and Program Coordinator of the accredited Sport Management at Winston-Salem State University, in Winston-Salem, North Carolina. His public service activities include: Board Member For The Second Harvest Food Bank of Northwest North Carolina and the Winston-Salem Recreation and Parks Commission. Other community involvement include: The Greater Winston Kiwanis Club where he served as President and Lieutenant Governor of the 5th District, Board Member for the Mechanics & Farmers Bank, Chairperson for the Advisory Board for the Salvation Army Boys & Girls Club, and CPR Standard First Instructor for the American Red Cross.
Dr. Felder's professional activities include: elected President of the North Carolina Association for Athletic Education, Chairperson for the Ethnic Minority Committee for the North Carolina Alliance for Athletic, Health , Physical Education, Recreation & Dance Association & Member of the Editorial Board.
In addition, he has published and presented articles at the local, state and national level. Subjects of his articles and/or oral presentations include: "The Effect of Franklin vs Gwinnett County on the Sexual Harassment Policy in Secondary Education," "How Do You Spell Success In Coaching", "Who Has The Last Word-Coaches or Athletes" "Win, Loose or Draw-Motivating the Student Athletes.
Educational Background
PhD, Curriculum & Instruction/Athletic Administration, 1982, Kansas State University
MS, Athletic Administration, 1976, Kansas State University
BS, Health, Physical Education Recreation and Dance, 1974, Alcorn State University
Felder, Dennis & Wishnietsky "The National Letter of Intent: Are You Sure You Want To Sign? The North Carolina Journal of North Carolina Alliance for Athletics, Health, Physical Education, Recreation & Dance, Vol. 45 Number 1 Spring 2010
SPM 3308 Facility Management & Design
SPM 4306 Organization & Administration
SPM 4601 Internship in Sport Management
PED 2111 Folk, Social & Square Dance
Board of Governor's Excellence In Teaching Award 2008
Sport Management Professional Of The Year For The North Carolina Alliance For Athletics, Health, Physical Education, Recreation & Dance, 2007
"Where The Money Is Made In Sport Management" North Carolina Alliance For Athletics, Health, Physical Education, Recreation & Dance, Winston-Salem NC 2011
"Line Dancing With The Stars-Join Me" North Carolina Alliance For Athletics, Health, Physical Education, Recreation & Dance, Winston-Salem, NC 2011
"The Best Way To Find An Internship In Sport Management!! Have You Tried Steps 1, 2, & 3?" North Carolina Alliance For Athletics, Health, Physical Education, Recreation & Dance, Winston- Salem, NC 2010
"Paying The Price To Major In Sport Management" Southern District Of American Alliance For Health, Physical Education, Recreation & Dance in Myrtle Beach, South Carolina February 2010