Jill Keith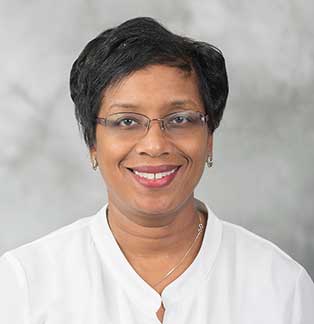 Position: Professor of Biochemistry and Chair Department: Biological Sciences
Contact Info
Office: 412 Wilveria Bass Atkinson Science Phone: 336-750-2213 Email: harpj@wssu.edu
Biography
Jill Keith, PhD is Chair of the Department of Life Sciences at Winston-Salem State University (WSSU) and an Adjunct Professor at Wake Forest University Health Sciences (WFUHS) in the Physiology and Pharmacology Department. She received her BS degree from the York College-City University of New York and her Ph.D. from the University of Maryland-College Park. Dr. Harp is involved in the assessment of student learning, serves on various WSSU's SACS Leadership Teams and Assessment Committees, coordinates General Biology and serves on the department's curriculum committee.

Dr. Harp has received research and educational grants to enhance the training of students in the lab and the classroom, respectively. Hence, she has trained approximately 150 middle school, high school, and college students. This has led to over 30 research presentations by these students in the area of drug addiction. Furthermore, interdisciplinary educational grants were awarded to enhance the preparation of students as they pursued professional degrees by enhancing their critical thinking skills in biology, chemistry, and math. In 2011, Dr. Harp received the Board of Governors award for Excellence in Teaching.

Faculty development is important to Dr. Harp as she continually assists faculty through her service on the Internal Review Board, Research Initiation Program Committee, and facilitating faculty workshops. These collaborative activities have also led to several conference presentations.
Educational Background
PhD University of Maryland - College Park
Williams DB, Keith, J. A diphenylmethoxypiperidine with strong agonist action at GABAA receptors. Eur J Pharmacol.  2013; submitted.
Oleson EB, Ferris MJ, Espana RA, Harp JJ, and Jones, SR. Effects of the HI histamine antagonist and benztropine analog diphenylpyraline on dopamine uptake, locomotion, and reward. Eur J Pharmacol.  2012; 683(1-3):161-165.
Lapa GB, Mathews TA, Harp J, Budygin EA, Jones SR. Diphenylpyraline, a histamine H1 receptor antagonist, has psychostimulant properties. Eur J Pharmacol. 2005; 506(3):237-40.
Lapa GB, Byrd GD, Lapa AA, Budygin EA, Childers SR, Jones SR and Harp JJ. The synthesis and biological evaluation of dopamine transporter inhibiting activity of substituted diphenylmethoxypiperidines. Bioorg Med Chem Lett. 2005;15(22):4915-8.
Bennett BA, Hollingsworth CK, Martin RS, Harp JJ. Alteration in dopamine transporter function after methamphetamine treatment. Br Res 1997; 782:219-227.
Porter NA, Su Q, Harp JJ, McPhail AT. The stereoselective synthesis of succinamide derivatives via enolate oxidative coupling. Tet Lett 1993; 4457-4460.
Herndon JW, Harp JJ. Cyclization of alkene-containing tetraalkylstannanes. Tet Lett 1992; 33:6243-6246.
Herndon JW, Chatterjee GC, Patel PP, Matasi JJ, Tumer SU, Harp JJ, Reid MD. Cyclopropylcarbene-tungsten complexes + alkynes: A [4+2+1] cycloaddition route for the construction of seven-membered rings. J Amer Chem Soc 1991; 113:7807-7809.
Herndon JW, Wu C, Harp JJ, Kruetzer KK. Exploration of the [3+2] cycloaddition reaction between allylstannanes and a,b-unsaturated acyliron complexes. Synlett 1991; 1-10.
Herndon JW, Wu C, Harp JJ. Reaction of allylstannanes with a,b-unsaturated acyliron complexes: stereoselective synthesis of cyclopentane Derivatives. Organometallics, 1990; 9:3157-3171.
Herndon JW, Harp JJ. Reaction of 5-hexenyltributyltin with pseudohalogens: cyclization vs. double bond addition. J Organomet Chem 1990; 393:C1-C5.