Greg Henderson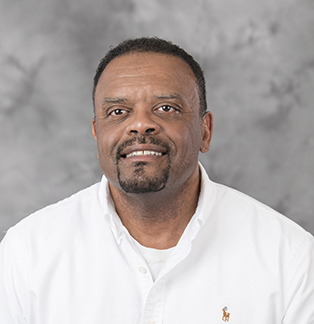 Position: Department: Human Service Studies
Contact Info
Office: Anderson Center C018C Phone: 336-750-2590 Email: hendersong@wssu.edu
Biography
Greg Henderson PhD is an assistant professor in the Rehabilitation Studies Program in the Department of Human Performance and Sport Sciences. He served as an adjunct professor at Winston-Salem State University prior to his appointment as full time faculty. Two of his primary research interests are the impact of mental illness and alcohol and other drugs on learning and development and retention paradigm. Dr. Henderson is a Licensed Substance Abuse Specialist (LSCA), Licensed Professional Counselor (LPCA), and a Certified Rehabilitation Counselor (CRC). Dr. Henderson also has a strong back ground in K-12 where he served as teacher, assistant principal, principal and director of schools. Dr. Henderson will serve as lead for the development of the substance addiction minor degree and the addiction certification program.

Dr. Henderson lives in Winston-Salem; however, spent several years living in various states in pursuit of career and educational opportunities. He completed his undergraduate work at the University of North Carolina at Pembroke, a master's degree from Winston-Salem State University and his doctorate from Cleveland State University.

Dr. Henderson enjoys spending time with his family and friends, working out, reading and most sports.
Educational Background
Master Counseling Chemical Addiction Certificate, 2012, East Carolina University
Master of Science, Rehabilitation Counseling, 2011, Winston-Salem State University, Winston-Salem, NC
Doctorate of Philosophy, Urban Education, (Education Leadership), 2008, Cleveland State University, Cleveland, OH
Master of Education, Educational Leadership, 1997, Lamar University, Beaumont, TX
Master of Human Resources, Learning and Development, 1994, Barry University, Miami Shores, FL
Bachelor of Science, Health & Physical Education / Recreation, 1987, Pembroke State University, Pembroke, NC
Licensed Substance Abuse Specialist (LSCA)
Licensed Professional Counselor (LPCA)
Certified Rehabilitation Counselor (CRC)
North Carolina Licensed Administrator, Health and Physical Education Teacher
REH 2307:01 Practical Communication in Rehabilitation Setting
REH 3308:01 Foundations of Psychopharmacology
REH 3312:01 Dynamics of Addiction/Psychosocial Rehabilitation
REH 4301:01 Community Resources /Service Delivery
REH 3101 : 01 Practicum in Rehabilitation
Presenter, Retention Strategies for Upward Bound College Students, Winston-Salem State University, 2011

Presenter, The Effective Practices of Highly Successful Treatment Facilities, Durham, NC, 2009

Presenter, Multicultural Communication and Cultural Competence, Lorain, OH, March 2008

Presenter, The Elements of Effective School Safety Practices, Lorain, OH, February 2008

Presenter and Facilitator, The Reduction of Recidivism When Students Participate in Diversion Plans, Lorain, OH, April 2008

Keynote Speaker, NAACP Annual Banquet, Lorain, OH, May 2007

Presenter, Best Practices Strategies for Low-Achieving Students, DC Public Schools, 2006

Presenter and Facilitator, Reconstruction of the Village Association for Supervision and Development (ASCD) National Conference, Chicago, IL, February 2006

Presenter and Facilitator, Reconstruction of the Village National Alliance of Black School Educators (NABSE) National Conference, Detroit, MI, November, 2005

Selected Evaluator, State of Ohio Alternative Programs, Columbus, OH, 2005 and 2008

Consultant and Presenter, The Use of Positive Behavioral Support, International Conference of Children and Youth with Behavior Disorders, Dallas, TX, September 2005

Planner/Implementer, School-Based Diversion Plan for At-Risk Youth, Lorain, OH, September–October 2005

Guest Presenter, Matters Affecting Emotionally Disturbed Youth, Cleveland State University PhD Class Cohort XV-XVI, Cleveland, OH, April 2004

Presenter/Panelist, The State of Youth in the Urban Setting, Nationally Televised Program, Atlanta, GA, March 2003

Presenter, How to Develop an Effective Relationship between School Resource Officers and School Administrators, National School Resource Officer Convention, Greensboro, NC, 1997

Presenter, Texas State Youth Leadership Conference, Port Arthur, TX, 1994–1997

Presenter, Multicultural & Diversity Training, Jefferson County Drug & Rehabilitation Centers, Beaumont, TX, 1993–1995