Adebola Ilesanmi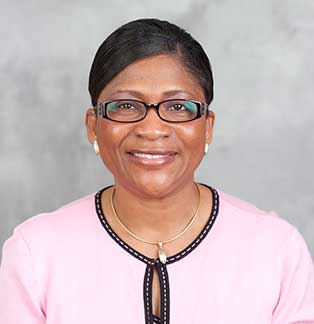 Position: Assistant Director Department: University Wellness Center
Contact Info
Office: A.H. Ray Health Building Suite 244 Phone: 336-750-2893 Email: ilesanmia@wssu.edu
Biography
Dr. Adebola (Bola) O. Ilesanmi, DNP, MSN, FNP-BC, joined the WSSU Wellness Center's health services in February 2007 and serves as a Family Nurse Practitioner and the Student Health Services' Assistant Director. She has over 20 years of Nursing Career and15 years of Nurse Practitioner's experience. Prior to joining the Wellness Center, she worked as an RN and Family Nurse Practitioner in a wide range of professional and clinical settings. She is a nursing and college first year experience instructor, a clinical nursing preceptor and mentor both in the hospitals and private practice settings. An American Red Cross Instructor, she also serves as the Wellness Center's Infection Control and Risk Management Officer. She is a proud triple alumna of WSSU.
Go RAMS!
Research and Project Interests
Obesity and Cardiovascular diseases in young and older adults
Smoking cessation
Infection Control in College-Health Settings
Healthcare Quality Improvement and Risk Management
Philosophy
"Do unto others as you would have them do unto you"
Interests
Outside of professional life, she is a minister. She enjoys exercising, reading, cooking, traveling, and spending time with family and friends.