Carly M. Kemmis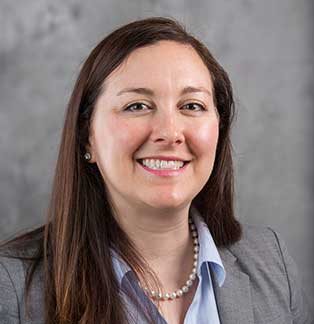 Position: Associate Professor Department: Biological Sciences
Contact Info
Office: 425 Wilveria B. Atkinson Science Building Phone: 336-750-2211 Fax: 336-750-3094 Email: kemmisc@wssu.edu
Educational Background
BS, 2002, Valparaiso University, Valparaiso, Indiana
PhD, 2007, University of Notre Dame, South Bend, Indiana
Post Doctoral Research Associate, 2007-2010, University of Notre Dame, South Bend, Indiana
Research and Project Interests
Human mesenchymal stromal cell (hMSC) differentiation.
Impact of flame retardants on hMSC differentiation.
The effects of triphenyl phosphate (TPP) on osteogenesis and adipogenesis.
Fleming J, Vail E, Corpening D, Kump D, Davis-McNeil A, Melvin D, Kemmis C. The impact of triphenyl phosphate on osteogenic and adipogenic lineage commitment of human mesenchymal stromal cells. Manuscript in preparation
Kemmis CM, Vahdati A, Weiss HE, Wagner DR Bone morphogenetic protein 6 drives both osteogenesis and chondrogenesis in murine adipose-derived mesenchymal cells depending on culture conditions. Biochem Biophys Res Commun. 2010 Oct 8;401(1):20-5.
Kemmis CM, Welsh J. Mammary epithelial cell transformation is associated with deregulation of the vitamin D pathway. J Cell Biochem. 2008 Nov 1;105(4):980-8.
Rowling MJ, Kemmis CM, Taffany DA, Welsh J. Megalin-mediated endocytosis of vitamin D binding protein correlates with 25-hydroxycholecalciferol actions in human mammary cells. J Nutr. 2006 Nov;136(11):2754-9.
Kemmis CM, Salvador SM, Smith KM, Welsh J. Human mammary epithelial cells express CYP27B1 and are growth inhibited by 25-hydroxyvitamin D3, the major circulating form of vitamin D3. J Nutr. 2006 Apr;136(4):887-92.