Michele K. Lewis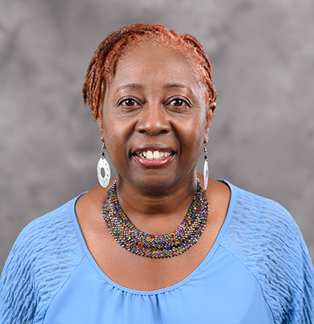 Position: Associate Professor, Chair Department: Psychological Sciences
Contact Info
Office: Coltrane Hall, Rm. 304 Phone: 336-750-2061 Fax: 336-750-8650 Email: lewismi@wssu.edu
Biography
Michele K. Lewis, Ph.D. has been a member of the WSSU faculty since the Fall of 2007. During her graduate studies, she was trained in the area of brain and behavior. Currently she writes, researches, and teaches in psychology with attention to liberation psychologies, and advocates for the application of psychology to serve public interests. She uses intersectional, interdisciplinary, and biosociocultural approaches to understand human thoughts, behaviors, and emotions.
Educational Background
PhD, Howard University
MS, Howard University
BS, Old Dominion University
Research and Project Interests
Gender, cultural and cross-cultural psychology; cultural neuroscience
Intersectional studies of people of African descent; liberation psychology
Study Abroad/International Education
Books (Peer-Reviewed)
Lewis, M. K. & Isiah Marshall Jr. (2012). LGBT Psychology: Research perspectives and people of African descent. New York: Springer.
Lewis, M. K. (2002). Multicultural health psychology: Special topics acknowledging diversity. New York: Allyn and Bacon.
Book Chapters (Peer-Reviewed)
Lewis, M. K. (2014). Heterosexual masculinity, the self, and social needs: The homicidal hazing of Robert Champion. In S. C. Howard (Ed.). Critical Articulations of Race, Gender, and Sexual Orientation (pp. 199-214). Lanham, MD: Lexington Books.
Howard, S. C. & Lewis, M. K. (2011). African-American Lesbians Watching "The L Word": Audience Research. In T. G. Morrison, M. A. Morrison, M. A. Carrigan, & D. T. McDermott (Eds.) Sexual Minority Research in the New Millennium (pp. 107-126). Haupagge, NY: Nova Science Publishers.
Articles (Peer-Reviewed)
Moye, R., Henderson, D. X., Lewis, M. K., & A. Lewis (2015). Moving up but falling down: A framework for understanding the Trayvon Martins of the world. Race, Gender & Class, 22, 1/2 296-306.
Lewis, M. K. (May, 2016). "Historically Black Colleges and Universities, LBGTQ Students at". The Sage Encyclopedia of LGBTQ Studies. Thousand Oaks, CA: SAGE Publications, Inc.
Follins, L., Walker, J. & Lewis, M. K. (2014). Resilience in Black lesbian, gay, bisexual, and transgender individuals: A critical review of the literature. Journal of Gay & Lesbian Mental Health, 18(2), 190-212.
Case, K. A. & Lewis, M. K. (2012). Teaching intersectional LGBT psychology: Reflections from historically Black and Hispanic serving universities. Psychology and Sexuality, 3, 1-17. doi: 10.1080/19419899.2012.700030
Lewis, M. K. (2011). Sensitivities: Emotion work and resulting personal effects in researching black lesbians. Journal of Lesbian Studies, Special Issue: Lesbians of African Descent: Contemporary Perspectives, 15, 31-39. doi: 10.1080/10894160.2010.508406
Lewis, M. K. & Lee, A. K. (2009). Critical consciousness in introductory psychology: A historically black university context. Pedagogy and the Human Sciences, 1 (1), 50-60.
Lewis, M. K. (2008). Inviting respect for social justice. Academic Exchange Quarterly, 12 (2).
Book & Media Reviews (Peer-Reviewed)
Lewis, M. K. (2015). Pain, hedonism, freedom [Review of the motion picture Wild, 2014, directed by Jean-Marc Vallée]. PsycCRITIQUES, Vol. 60, No. 24, Article 10.

Lewis, M. K. (2014). Liberatory practices amid lingering oppression. [Review of the book Butch queens up in pumps: Gender, performance, and ballroom culture in Detroit]. PsycCRITIQUES, 59(11) Article 9.
Lewis, M. K. (2007). Where it stands: Health and sexual minorities. [Review of the book The health of sexual minorities: Public health perspectives on lesbian, gay, bisexual, and transgender populations]. PsycCRITIQUES, Vol. 52 (44).
Instructors' Manual
Lewis, M. K. (2007). Instructor's Manual with Tests, History of Psychology: globalization, ideas, and applications 1e, Lawson, R. B., Graham, J. E. & Baker, K. M. Upper Saddle River: Prentice Hall.
Fall 2017 Courses and Office Hours
Psy 3301 Brain and Behavior
Psy 3312 Black Psychology
Office Hours
(COLTRANE 304) TR 7:30am-9:30am AND Thursdays, 2:30pm-6:30pm
Call" 336-750-2061 for other appointment times
Currently serving as
Leadership in the Department of Psychological Sciences
Study Abroad Faculty Leader to Bahia, Brazil
Psychology Honor's Program Faculty
International Programs Committee Member