Patricia D. Norris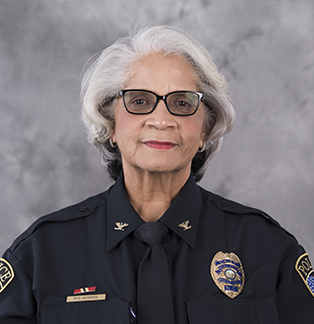 Position: Chief of Police and Director of Public Safety Department: Police and Public Safety
Contact Info
Office: Public Safety Center Rm. 208 Phone: 336-750-2902 Email: norrispd@wssu.edu
Biography
Patricia D. Norris joined Winston-Salem State University as Chief of Police and Director of Public Safety in 2008. She previously served as Chief of Police for the City of Winston-Salem for four years and was on the force for 31 years.
Chief Norris began working with the City of Winston-Salem in the Traffic Engineering Department and was hired as a police officer trainee. She worked her way up through the ranks and was sworn in as the first African-American and city's twelfth Chief of Police in 2004.
A life-long resident of Winston-Salem, Chief Norris graduated from R. J. Reynolds High School and earned her undergraduate degree from Winston-Salem State. She also is a graduate of the Administrative Officers' Management Program at N. C. State University
In 2011, Chief Norris became the first female and the first African-American to serve as president of the North Carolina Association of Chiefs of Police (NCACP), a professional organization dedicated to the support and encouragement for all police chiefs in the state. She had previously served as first vice president of the NCACP.
Chief Norris has also served on the North Carolina Governor's Crime Commission and the Crime Victims' Services Program Planning Committee. She also has served on numerous local boards include Forsyth Futures, the American Red Cross, Mediation Services and the WSSU Center for Community Safety.
Educational Background
Diploma, 1972, Reynolds High School
Certificate of Completion, 1991, North Carolina State University
B.S., 1993, Winston-Salem State University