Mesia Moore Steed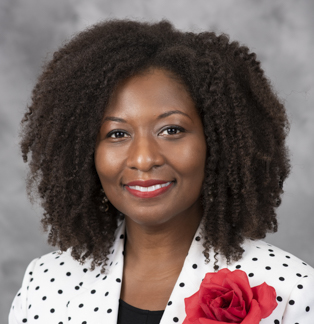 Position: Assistant Professor of Cell and Molecular Biology Department: Biological Sciences
Contact Info
Office: 401 WB Atkinson Science Building Phone: 336-750-2391 Fax: 336-750-3094 Email: steedmm@wssu.edu
Biography
Mesia Moore Steed, Ph.D. received her Ph.D. in Physiology and Biophysics from the University of Louisville, in Kentucky. She conducted postdoctoral research at Wake Forest University in the Department of Physiology and Pharmacology and the Hypertension and Vascular Research Center. While at Wake Forest, Dr. Steed further developed her interest in diversity issues while serving as co-chair of the Postdoctoral Association and served as the one of the National Postdoctoral Association's Diversity Officers. She also has extensive interest in K-12 outreach. Dr. Steed's research program focuses on the roles of matrix metalloproteinase, zinc-dependent endopeptidases, in mediating vascular remodeling associated with vascular diseases, such as hypertension and diabetes.
Educational Background
PhD, Physiology & Biophysics, University of Louisville, Kentucky
MS, Physiology & Biophysics, University of Louisville, Kentucky
BS, Exercise Science, University of Louisville, Kentucky
Research and Project Interests
The Role of Matrix Metalloproteinase in Vascular Remodeling
Hypertension
Diabetes
Mechanisms of Cardiovascular Remodeling in Hyperhomocysteinemia. Steed MM, Tyagi SC. Antioxid Redox Signal. 2011 Oct 1;15(7):1927-43. Epub 2011 Apr 21. Review.
2011 Career Panel Speaker: High School Students/Teachers Workshop, Experimental
Biology Conference
2011 APS exhibitor, Science Teacher for the USA Science and Engineering Festival
2010 APS PhUn Week Presenter, Success Institute, Winston-Salem, NC
2009 Invited Speaker, Big Brothers Big Sisters, Winston-Salem, NC
2008 APS PhUn Week Presenter, Success Institute, Winston-Salem, NC
2007 Invited Speaker: Western Middle School, sponsored by Girl Scouts
2007 Invited Speaker: Youth of the Future Celebration, Norris Chapel Baptist Church, Henderson, KY
2007 Invited Speaker: Ladies of Zeal, Brown School, Louisville, KY
2006 APS Science Teaching Forum, Denver, CO
2006 APS Explorations in Biomedical Science Retreat, Warrenton, VA
2006 Presenter, Annual Biomedical Research Conference for Minority Students (ABRCMS)
2006 APS PhUn Week Presenter, Our Lady of Perpetual Help School, Clarksville, IN
2006 APS PhUn Week Presenter, Meyzeek Middle School, Louisville, KY
2006 UofL Presidential Outreach across Western Kentucky (with President Dr. James R. Ramsey):
2005 Presenter and partner with Shawnee High, Central High School, Western Middle
School, Newburg Middle, Meyzeek Middle, Brown School, Carter Elementary:Louisville, KY
2005 Invited Speaker: Black Achievers, Science and Medicine Cluster, Louisville, KY
2005 Invited Speaker: Planned Parenthood, Louisville, KY