Rashunda L. Stitt Richardson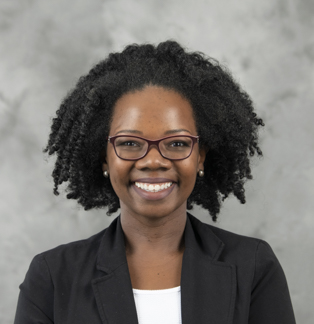 Position: Assistant Professor Department: Psychological Sciences
Contact Info
Office: Coltrane Hall, Room 307 Phone: 336-750-8804 Email: stittrl@wssu.edu
Biography
An educational psychologist trained in qualitative and quantitative research methodologies with an interest in the achievement, identity, motivation, & success of women of color in STEM.

An advocate and resource for undergraduate students at Winston-Salem State University.

A career advisor for undergraduate psychology majors.
Educational Background
The University of Memphis, Ph.D. Educational Psychology
The University of West Florida, M.A. Applied Psychology
Howard University, B.S. Psychology
Research and Project Interests
Identity Development in Educational Contexts
Women and People of Color in Science, Technology, Engineering, and Mathematics (STEM)
Qualitative Inquiry in Psychology
Academic Motivation
Stitt, R. L. (Principal Investigator). (2020-2023). Broadening participation research center: Center for the development of identity and motivation of African American students in STEM (Award No. 2010846) [Grant]. National Science Foundation. National Science Foundation
Stitt Richardson, R. L., Guy, B. S., & Perkins, K. S. (2019).  "I am committed to engineering": The role of ego identity and parental support in Black women's engineering career persistence. Journal of Negro Education, 88(3), 281-296. JSTOR
Stitt, R. L., & Happel-Parkins, A. (2019). "Sounds like something a White man should be doing": The shared experiences of Black women engineering students. Journal of Negro Education, 88(1), 62-74. JSTOR
Stitt, R. L. (2016). African American women in STEM fields.  In C. Hudley (ed). Adolescent identity and schooling: Diverse perspectives. (pp. 107-122). New York, NY: Routledge.
Stitt, R. L, & Winsor, D. L. (2014). A narrative inquiry: The experience of first-generation college students. In SAGE research methods cases. London, United Kingdom: SAGE Publications, Ltd. Sage
Stitt, R. L. (2014).  Identity development.  Identity development across the lifespan: Definitions, theories, and applications.  In D. L. Winsor, V. S. Murrell, & S. Magun-Jackson (eds).  Lifespan development: An educational psychology perspective. New York, NY: Pearson.
Walch, S.E., Sakkaphat, T. N., Francisco, J., Stitt, R. L., & Shingler, K. A. (2012). Psychometric evaluation of the attitudes toward transgender individuals' scale. Archives of Sexual Behavior, 41, 1283-1291.  SpringerLink
Courses Taught at WSSU

Introduction to Psychology

Cognitive

Psychology of the Exceptional Child

Lifespan

Writing for the Psychological Sciences

Research Methods & Statistics II

Adolescence

Contemporary Issues: Identity Across the Paradigms

Psychological Investigations & Research (Honors)

Black Psychology

Special Topics: School & Educational Psychology
Psi Chi, The International Honor Society in Psychology, WSSU Chapter Advisor: August 2016 to Present
Professional Development Committee (PDC) Departmental Representative: August 2016 - May 2018 
Faculty Senate Departmental Representative: August 2018 - Present
Society for Qualitative Inquiry in Psychology (SQIP) Communications Team Member: August 2017 - Present