Dawn N. Hicks Tafari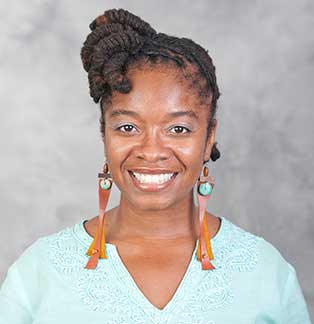 Position: Clinical Faculty Department: Education
Contact Info
Office: 242 Albert H. Anderson Center Phone: 336-750-8337 Fax: 336-750-2892 Email: tafaridn@wssu.edu
Biography
A native New Yorker, Dr. Tafari is passionate about the arts, culture, education, and translating theory into practice. She earned her Bachelor's degree in Psychology with a minor in Anthropology from Hofstra University; her Master of Arts in Teaching with Certification in Elementary Education from The Johns Hopkins University; and a Post-Baccalaureate Certificate in Women's and Gender Studies and her Ph.D in Educational Studies with a Specialization in Cultural Studies from The University of North Carolina Greensboro. She has served as an elementary school teacher in Brooklyn, New York and in Baltimore, Maryland; as a curriculum facilitator in High Point, North Carolina; and as an educational consultant for Guilford County Schools. She is also co-founder of the Greensboro Kwanzaa Collective, a grassroots organization that organizes Greensboro's citywide 7-day Kwanzaa celebration. Dr. Tafari has been on the faculty at Winston-Salem State University since the fall of 2013.
Educational Background
Doctor of Philosophy, 2013, The University of North Carolina at Greensboro
Post-Baccalaureate Certificate, 2010, The University of North Carolina at Greensboro
Master of Arts in Teaching, 2003, The Johns Hopkins University
Bachelor of Arts, 1996, Hofstra University
Research and Project Interests
Black Feminist Thought
Black Male Educators
Critical Pedagogy
Critical Race Theory and Methodology
Culturally Responsive Pedagogy
Hip-Hop Feminism
Intergenerational Issues
Narrative Research
Tafari, D. N. (2013). "I Can Get at These Kids": A Narrative Study Exploring the Reasons Black Men Teach. In C. W. Lewis, & I. Toldson, Black Male Teachers: Diversifying the United States' Teacher Workforce (pp. 93-106). Bingley: Emerald Publishing.
Tafari, D. N. (in press). Tales from A Hip-Hop DIVA: One Girl's Journey from the Bronx to the Ph.D. In C. M. Dyce, & T. M. Williams, D.I.V.A. Diaries: The Road to the PhD and Stories of Black Women Who Have Endured. Peter Lang Publishing, Inc.
EDU 4338: Psychological Foundations of Education
ELE 3311: Child Development I
BKE 2323: Child Development I
BKE 3329: Early Childhood Language and Literacy (online and f2f)
RED 4364: Teaching Reading in the Secondary Content Area (online)