Christopher Wendt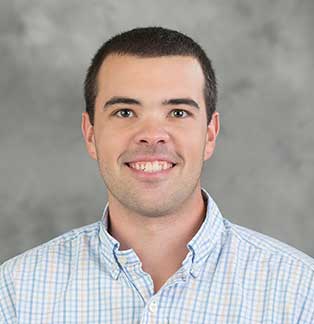 Position: Lab Manager/Instructor Department: Physical Therapy
Contact Info
Office: WSSU-WFU Human Performance and Biodynamics Lab Phone: 336-716-0521 Fax: 336-750-2192 Email: wendtcs@wssu.edu
Biography
Mr. Wendt is the current lab manager of the Winston-Salem State University and Wake Forest University Human Performance and Biodynamics (HPB) Laboratory. He performs the day-to-day operations and administrative management of the HPB Lab by conducting and analyzing human motion research and clinical assessments. Additionally, he assists with various DPT student Capstone research projects, provides technical assistance, equipment maintenance, and software updates that are necessary for quality assurance. His passion for Biomechanics research inspires his teaching of related content in the Doctor of Physical Therapy Program at WSSU. As an instructor in the Department, Chris teaches the foundational Clinical Biomechanics course in the first semester of the program. Throughout the program, specific classes will visit the HPB Lab for interactive guest labs, where he assists with demonstrating the use of state-of-the-art equipment for the analysis of human motion. DPT students are regularly exposed to cutting edge scientific research and collaborating with other local healthcare practitioners.
Chris received his Bachelor of Science degree in Exercise Physiology in 2012, and his Master of Science Degree in Biomechanics in 2014- both from East Carolina University. At East Carolina, he worked as a graduate research assistant under great mentorship in the ECU Biomechanics Lab. There, he gained extensive experience with motion capture, force platform, EMG and isokinetic dynamometry- much of which the WSSU-WFU Human Performance and Biodynamics Lab also has to offer.
Mr. Wendt is a member of the American Society of Biomechanics and American College of Sports Medicine professional organizations. Through these organizations he has had the opportunity to give peer-reviewed scientific and professional presentations at local, state, national and international conferences. His passion is for sports biomechanics research, particular of the golf swing. Chris is recognized by the Titleist Performance Institute as a TPI Certified Level 2 Golf Biomechanist, specializing in the analysis and evaluation of golfer physical limitations, the body-swing connection, and ball flight characteristics.
Educational Background
MS Biomechanics, 2014, East Carolina University
BS Exercise Physiology, 2012, East Carolina University
Research and Project Interests
Kinematic and Kinetic Evaluation of the Golf Swing
Sports and Exercise Biomechanical Analysis
Clinical Assessment of Gait Biomechanics
Balance and Postural Stability
DPT 6101 - Clinical Biomechanics
DPT 7207 - Research II
DPT 8205 - Research III
Guest lab activity instruction in:
DPT 6202 - Kinesiology
DPT 7111 - Cardiopulmonary Lab
DPT 7112 - Musculoskeletal III Lab
DPT 7206 - Adult Neuromuscular I Lab
DPT 7208 - Prosthetics and Orthotics
DPT 7209 - Movement Disorders
DPT 7210 - Special Topics- Vestibular Elective Course