Winston-Salem State University was founded as the Slater Industrial Academy by Simon Green Atkins on September 28, 1892. Atkins had an audacious vision to create an institution where every student would meet the challenges of the day equipped with an education designed to intellectually prepare the "head, hand, and heart." Twenty-five students attended classes in a one-room frame structure and were taught by a single instructor.
In 1925, the General Assembly of North Carolina recognized the school's curriculum above high school, changed its name to Winston-Salem Teachers College, and empowered it under authority of the State Board of Education to confer appropriate degrees. Winston-Salem Teachers College thus became the first black institution in the nation to grant degrees for teaching the elementary grades.
In response to a growing medical community emerging in the Winston-Salem area, the School of Nursing was established in 1953, awarding graduates the degree of Bachelor of Science. In recognition of the university's growing curriculum and expanding role, the North Carolina General Assembly of 1963 authorized changing the name from Winston-Salem Teachers College to Winston-Salem State College.
A statute designating Winston-Salem State College as Winston-Salem State University received legislative approval in 1969, and in 1972, Winston-Salem State University became one of the 16 constituent institutions of the University of North Carolina, subject to the control of a Board of Governors.
Since its founding in 1892, Winston-Salem State University has grown from a one-room frame structure to more than 39 buildings located on a picturesque 117-acre campus overlooking the woodlands of Salem Lake in the heart of Winston-Salem.
The university is now number one in the UNC system for North Carolina job placement for graduates and number one in the UNC system for the average salary for triad-area graduates. It is home to an award-winning student activities center, top 25 division II football, basketball, and baseball programs, and offers students 100-plus student organizations.
With a faculty-to-student ratio of 16:1, the university enrolls approximately 5,100 students and offers more than 40 bachelor's programs, 9 master's programs, two professional doctoral programs, and two certificate programs.
Important Dates


1892: Slater Industrial Academy founded on September 28, 1892.
1899: The school was chartered by the state as Slater Industrial Academy and Slater Normal School.
1925: The school is named Winston-Salem Teachers College, the first Black institution in the nation to grant degrees for teaching in the elementary grades.
1953: The School of Nursing was established, and began awarding graduates the Bachelor of Science degree.
1963: The North Carolina General Assembly authorized changing the name from Winston-Salem Teachers College to Winston-Salem State College.
1972: On July 1, 1972, Winston-Salem State University became one of the 16 constituent institutions of the University of North Carolina.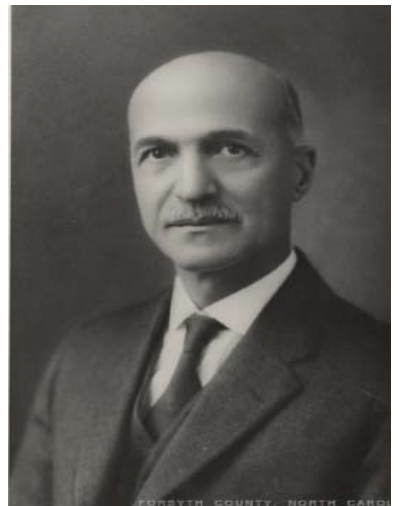 Our Founder, Dr. Simon Green Atkins
Born in Haywood, Chatham County, to Allen and Eliza Atkins, Dr. Atkins attended public schools and in 1880, entered St. Augustine's Normal and Collegiate Institute, graduating with distinction in 1884. Upon graduation he was invited by President J. C. Price to join the faculty of Livingstone College, Salisbury, NC, where he served for six years.
In 1889, he married Oleona Pegram, an English teacher at Scotia Seminary – and later at Slater Academy where she labored side-by-side with her husband in the development and growth of the institution. In 1890, Dr. and Mrs. Atkins moved to Winston where he became principal of the Deport Street School for blacks in the state.
Dr. Atkins believed that good housing conditions and home ownership were important to successful educational programs. With this idea in mind, in 1891, he suggested the development for blacks of a neglected section of the city which became known as Columbian Heights, and Dr. Atkins and his family became the first residents. Many other families followed, and by 1892 there were enough families for the establishment of the school. Chartered in 1892, Slater Industrial Academy opened its doors in 1893 with 25 pupils and one teacher in a building which stood on what is now U.S. 52 and Stadium Drive.
After five years as principal, Dr. Atkins resigned from the Depot Street School to devote himself full-time to Slater. Under his leadership the institution grew to a plant consisting of ten buildings, with more than 300 students. Dr. Atkins' role in developing opportunities in higher education for blacks, especially considering conditions which handicapped his efforts, is underscored by an editorial appearing in the June 1934, edition of the Winston-Salem Journal. It read in part: "In consequence of a vision translated into the work of his mind and hand, Slater Industrial and State Normal School was launched. Handicapped by lack of resources, the institution grew in size and influence… and its usefulness became a state institution during the administration of Governor Glenn."
Dr. Simon Green Atkins served as president of the institution from 1892 to 1904 and again from 1913 until his retirement in 1934. During his life Dr. Atkins' influence extended to the community and to the church. In 1905, he helped found Forsyth Savings and Trust Company, the first bank for blacks in the city; he was also instrumental in starting the YMCA. Dr. Atkins served as an office of the A.M.E. Zion Church for 20 years, as secretary of education for 16 years and as secretary of church extension for four years. He also edited Southland magazine which dealt with critical issues and took a strong stand on race relations, and he co-edited the Progressive Educator, published by the North Carolina Teachers Association, which he helped found in 1881.
It can be said that Dr. Simon Green Atkins is not simply an important name in the history of the university – a legend from the past – he is also a man for all times because his philosophy pervades the university's current work and future aspirations.
The university has been served by the following presidents and chancellors:
Chief Administrators
Simon Green Atkins, President
1892-1904
Cadd Grant O'Kelly, President
1904-1910
Francis Marion Kennedy, President
1910-1913
Simon Green Atkins, President
1913-1934
Francis Loguen Atkins, President
1934-1961
Kenneth Raynor Williams, President
1961-1972
Kenneth Raynor Williams, Chancellor
1972-1977
H. Douglas Covington, Chancellor
1977-1984
Haywood L. Wilson, Jr., Interim Chancellor
1984-1985
Cleon F. Thompson, Jr., Chancellor
1985-1995
Gerald McCants, Interim Chancellor
1995

Alvin J. Schexnider

, Chancellor
1996-2000
Harold L. Martin, Sr., Chancellor
2000-2006
Michelle Howard-Vital, Interim Chancellor
2006-2007
Pedro L. Martinez, Interim Chancellor
2007
Donald J. Reaves, Chancellor
2007-2014
Elwood L. Robinson, Chancellor
2015-2023
Anthony Graham, Interim Chancellor
2023-present
Winston-Salem State University is located on 117 acres in Winston-Salem, Forsyth County, North Carolina, a city of 223,000 residents. This thriving twin city is a part of the Piedmont Triad, which encompasses the neighboring cities of Greensboro and High Point. The Triad is one of the most heavily populated and rapidly growing Metropolitan Statistical Areas between Washington, DC. and Atlanta, GA.
Traditions
WSSU students experience a number of traditions. It is the responsibility of each student to see that these traditions are fully supported and carried out. Students take pride in these traditions and gladly share them with anyone who becomes a member of the university family.
Some of the traditions are as follows:
Homecoming
WSSU Choir Holiday Concert
International Week
Black History Month
Founder's Day
Greek Week
Career Day
Colors
Red and White
Career Job Fairs
SGA Elections
Coronation Ball
Honors Convocation
Commencement
Senior Class Gala
Lambs to Rams Pinning Ceremony
Mascot
Ram - named Amon
"As We Go Forth" *
Words and Music by Noah F. Ryder (Christmas 1938)
As we go forth from Old State U.,
A song of love we sing to thee,
And praises to the memory
0f days at State University.
Thy sons and daughters bring thee fame
Through knowledge which we here have gained,
Exultingly we raise thy name,
Oh, Winston-Salem State University.
As we go forth from Old State U.,
Good leaders we will always be,
And stand for all humanity
As you have taught us, State University.
In all we do we shall proclaim
To all the world thy enduring fame,
As we go forth we praise thy name,
Oh, Winston-Salem State University.
* Originally published in a slightly different form, Noah F. Ryder (1938). Transcription 2004, Winston-Salem State University