Rose A. Sackeyfio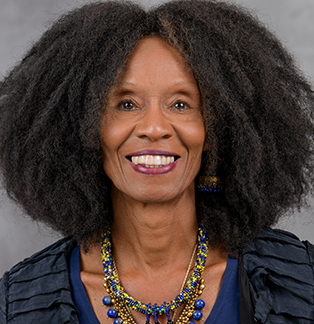 Position: Associate Professor Department: English
Contact Info
Office: 224 Hall Patterson Phone: 336-750-2026 Fax: 336-750-2180 Email: sackeyfior@wssu.edu
Biography
Rose Sackeyfio has taught in the Department of English at Winston-Salem State University since 1993 after completing a Ph. D. at Ahmadu Bello University, Zaria, Nigeria where she taught for 10 years. Her area of specialization, and scholarly activities is inter-disciplinary and includes the literature of African and African-American women, Women's Studies, Cultural and Diaspora Studies and recently, South Asian Women's Writing. Her research interests evolved from over 40 years of travel and research in West Africa. Her publications and scholarly pursuits explore various aspects of the lives of African women in the global arena. Her many publications include book chapters and peer reviewed articles in the Journal of the African Literature Association and African Literature Today. She was a Co-Director of the National Endowment for the Humanities Initiative: Integrating India into the Liberal Arts Curriculum at WSSU. In 2011 she was awarded the WSSU Research Initiation Proposal Grant and produced a documentary in Accra, Ghana called Building Bridges: the Untold African Story. The film examines issues of memory, identity and belonging in the 21st century.
Her scholarly engagement includes numerous presentations in USA and international conferences in Europe, Africa and Asia including guest lectures at several universities in India. Dr. Sackeyfio is committed to international education as a way to build bridges across cultures in an era of globalization and change. She is the Co-Editor of a collection of critical essays, Emerging Perspectives on Akachi Adimora Ezeigbo who is a leading Nigerian woman writer.  Her current project is an edited volume of critical essays: Women Writing Diaspora:Transnational Perspectives in the 21st Century.
Educational Background
PhD, 1992, Ahmadu Bello University
MS, 1982, Hunter College C.U.N.Y.
BA, 1971, Brooklyn College C.U.N.Y.
Research and Projects 
The National Endowment for the Humanities India Area Studies Award at WSSU is a rewarding opportunity for professional development and research into the literature of Indian and other south Asian women writers. An important outcome of this new research interest is the articulation of strong similarities between African and Indian women's lives. These are evident in culturally defined roles for women, values, customs and practices and Hindu religion. . Further, I have made inroads in researching Indian, Nepali and Tibetan women's writing. These new works will form a unit on South Asian women's writing in ENG 2306 Women's Writing in a Global Context that will be taught in spring 2014. In addition, a joint publication on Hindu and African Goddesses is underway between myself and Dr. Sasi Kiran. In sum, first hand exposure to a new culture has afforded multiple rewards and enhanced my knowledge and research into women's lives as expressed in their literature.
Peer Reviewed
"Black Women's Bodies in a Global Economy: Sex, Lies and Slavery in Trafficked by Akachi Adimora Ezeigbo and Black Sisters Street by Chika Unigwe." At the Crossroads, Readings of the Post-Colonial and Global in African Literature and the Visual Arts. Ed. Ghiramai Negash, Trenton: Africa World Press, 2014. Print.
"New Spaces of the Self: Diaspora Identities in Short Fiction by Chimamanda Ngozi Adichie and Sefi Atta". African Literature Today. Vol. 31. Ed. Ernest Emenyonu. James Currey. 102-114. Fall 2013. Print.
"Damned if You Do, Damned if You Don't: Victimhood and Agency in the Works of Ama Ata Aidoo". Journal of the African Literature Association. Ed. Porter Abioseh. pp. 66-81. Dec. 2012. Print.
"Altered Spaces: Interrogating Tradition and Modernity in Ama Ata Adoo's Changes". Obsidian III, Literature in the African Diaspora. Ed. Shelia Smith McKoy. pp. 73-111. Summer 2007. Print.
Non-Peer Reviewed
"Mothering Black: A Cross Cultural Perspective on Mothering in the Nigerian Academy". Laboring On: Testimony, Theory and Transgressions of Black Mothering, Ed. Sekile Nzinga Johnson. Bradford: Demeter. pp.175-191. May 2013. Print.
"Celebrating a Literary Icon: Ama Ata Aidoo". Flora Nwapa Newsletter, Ed. Marie Umeh. New York: John Jay College Pub. August 2012. Print.
"Reflections on Achebe's Legacy". Chinua Achebe: A Tribute (1930-2013, Ed. Anthonia Kalu, Simon Lewis and Ernest Emenyonu. http://africanlit.org/jala/remembering-chinua-achebe/
Editor
Emerging Perspectives on Akachi Adimora Ezeigbo, Rose A. Sackeyfio, Co-editor, Blessing Diala-Ogamba. Africa World Press.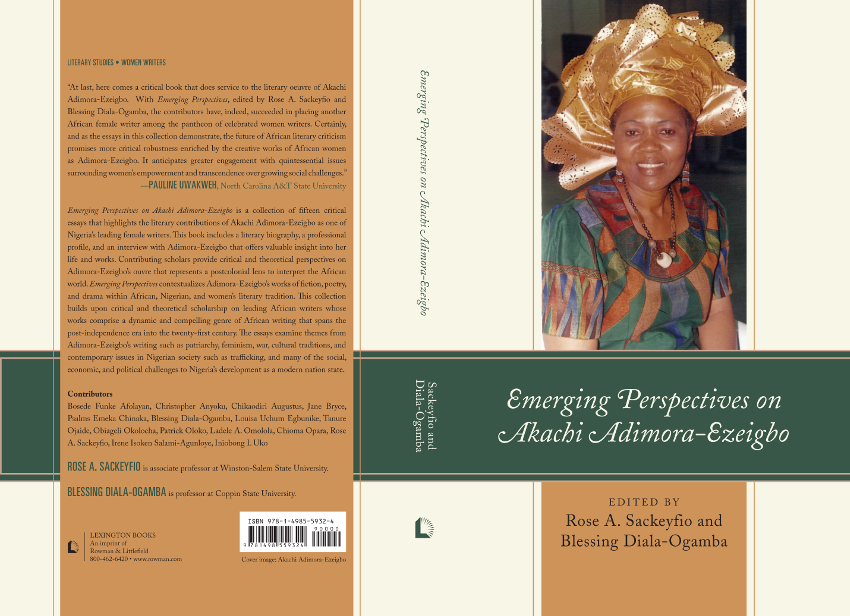 Forthcoming
"Culture and Aesthetics in Selected Children's Stories by Akachi Adimora Ezeigbo". African Literature Today. Vol. 32. Ed. Ernest Emenyonu. James Currey.
"Feminist Perspectives in Chimamanda Ngozi Adichie's Purple Hibiscus and Everything Good Will Come by Sefi Atta". Transatlantic Feminisms: Women's and Gender Studies in Africa and the African Diaspora, Ed. Akosua Adomako Ampofo, Dzodzi Tsikata and Cheryl Rodriguez. Maryland. Lexington. Press.
"Recasting Sisterhood in Swallow and Everything Good Will Come by Sefi Atta". The Sefi Atta Reader. Ed. Walter Collins III. Amherst. Cambria.
"Connecting Threads: Nigerian Women's Writing in the 21st Century". Social Change and Women's Writing in Nigeria, 1990-2010: Essays in Honor of Professor Theodora Akachi Ezeigbo. Ed. Patrick Oloko. Lagos: Nigeria.
Works In Progress
"Feminism in African and African American Literature", Jamia Mllia Islamia University, Delhi, August 15, 2014.
"The Impact of Globalization on African Women. Women's World Congress", University of Hyderabad, India, August 17-22, 2014.
"Motherhood in African Literature", Motherhood Initiative for Research and Community Development Annual Conference, Mothers, Motherhood and Mothering, Oct. 22-24, Ontario, 2014.
"Writing Life, Writing Self: Protest and Resistance in the Works of Nawal El Saadawi", African Literature Assoc. Annual Conference. Texts, Modes and Repertoires of Living In and beyond the Shadows of Apartheid. University of Witwatersrand, Johannesburg, April 9-13, 2014.
"Culture and Aesthetics in Children's Fiction by Akachi Adimora Ezeigbo", African Studies Association Meeting, Baltimore, November, 2013.
"The Goddess in West African Religion", "Writing Back: Feminist Perspectives in African and African American Literature"", Lady: Sri Ram University, New Delhi, India: Hosted by The English Literary Association and Interface. October 22-25, 2013.
"Writing Women's Lives: Identity, Culture and Literature in India". Teaching About India Conference, UNC Asheville, September 13, 2013.
"Globalizing Gender Across Cultures", Panel Presentation: Promoting Global Perspectives through Professional Development and Curricular Integration at an HBCU: Council on International Education Exchange Annual Conference, Shanghai, China, Nov. 14-17, 2012.
"Feminism in African Women's Literature", Wake Forest U. Colloquia: WGS and Dept. of English, March 24, 2011.
"Fractured Identity and Psychological Violence in Nervous Conditions by Tsitsi Dangaremgba", Africa and Blackness in World Literature and Visual Arts: 35th Annual African Literature Association Conference, University of Vermont, Burlington, April 15-19, 2009.
"The Impact of Religious Conflict on the African Family in Chinua Achebe's Things Fall Apart and Chimamanda Adichie's Purple Hibiscus", Sixty-Seventh Annual Convention of the College Language Association, April 18-21, 2007.
"Healing the Divide: Africans and African Americans in the 21st Century", Towards an Africa Without Borders Conference, University of Wisconsin-Madison, Oct. 8-10, 2004.
"Visions of the Self: Fragmented Perceptions of African Womanhood in Alice Walker's Possessing the Secret of Joy", Cultural Connections in the Diaspora: Africa and the Americas. 58th Annual Convention & 61st Anniversary of the College Language Association. Florida A&M University, Tallahassee, Florida. April 15-18, 1998.
"Dimensions of African Womanhood in the Works of Buchi Emecheta: Transcending the Boundaries of Place and Space", Literature in Migration: City, Country, World. 57th Annual Convention & 60th Anniversary of the College Language Association. Spellman College, Atlanta GA. April 16-19, 1997.
"Remove the Obstacles to Women's Involvement and Productivity as It Contributes to the Environment", Atlas Women's Workshop: The Impact of Women on the Environment in Developing Countries. National Association for Equal Opportunity in Higher Education. North Carolina Agricultural and Technical State University. Presentation/Moderator: May 12 -18, 1997.
HUM 2315 Black Women's Identity through Time
ENG 2306 Women's Literature in a Global Context
HUM 2310 African American Culture
ENG 2301 and 2302 World Literature
College Language Association
African Studies Association
African Literature Association
Sigma Tau Delta
Igbo Studies Association
Association for the Study of the Worldwide African Diaspora
UNC India Technology Learning Grant: This grant will develop a Skype/Video Course with WSSU and Jamia Millia Islamia University in Delhi, India. The course will be called "World Literature and Culture" and will be offered at both institutions in Spring, 2015.
Visiting Scholar Fellowship: African Studies UNC-Chapel Hill March 1-August 31, 2014.
National Endowment for the Humanities: Co-Director for India Area Studies: Internalization Project at Winston-Salem State University, December 4, 2012-Fall 2014.
Research Initiation Proposal (RIP) April 29, 2011, Ghana Film Project, Pilot Documentary completed in Accra, Ghana, Title: Building Bridges: The Untold African Story, Executive Producer, Rose A. Sackeyfio.
Council on International Educational Exchange: International Faculty Development Seminar:Religion, Ecology and Identity in Tibet, Summer, 2011.