Annual Report 2018-2019
Dear Friends of WSSU,
Winston-Salem State University is standing at the precipice of an opportunity. Ahead lies a bold vision to change the future of education. Behind lies a legacy of graduating alumni who fundamentally transform our world for the better. Taking advantage of this opportunity requires vision, dedication, and—perhaps most importantly—engagement. As we prepare our students to tackle some of the world's most challenging problems, we need our alumni, friends, and partners to help us create an environment that pushes our students to shatter the barriers that hold them back.
Fundamentally, education is about giving students the tools they need to build critical thinking and analytical problem-solving skills. At WSSU, that means providing high-impact practices like research projects, internships, and study abroad experiences. It also means engaging with our community and playing a role in economic development. This is how we will transform the world.
Progress toward our goals requires collaboration and a commitment to action. It requires fuel and perspiration. It requires our friends and our graduates to see the greatness of our vision and to invest in our institution. We are so grateful to our generous donors for their support of the university. Without your funding, we would be unable to accomplish the important work we are doing. Thank you for your continued support and ongoing commitment to WSSU.
Sincerely,



Elwood L. Robinson, Ph.D.



WSSU'S ECONOMIC IMPACT

Continually ranked among the top investments for college students, WSSU is also a major economic engine in the local and regional economy.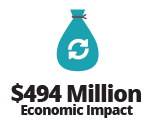 Total annual economic impact on the region.
The "human capital impact," or the increased earnings for WSSU alumni who live and work in the region.


A direct impact on the Triad's economy.
Source: Economic Impact Study, Zagros Madjd-Sadjadi, 2019