Lab Research
Student Involvement
Students from Winston-Salem State Department of Physical Therapy and Wake Forest School of Medicine Department of Orthopaedic Surgery complete research projects in the lab. Faculty mentors Student Involvement help the students learn about research design and data collection and analysis. These projects are presented at research symposiums at the completion of their time in the lab.
The primary objective of this study is to decrease the number of falls in community dwelling elderly African-Americans with hypertension. The effect of falls can include physical limitations, increased cost of care or even death. This study will help with identification of those elderly African-Americans who are at high risk for falls. This study will offer a basis for developing fall prevention programs to help community dwelling elderly African-Americans maintain independent living and a better quality of life for as long as possible.
Stubbs AJ, Anz A, Long B, Frino J, Cheetham S, Tanaka, ML, "Physical Evaluation of Hip Pain in Non/Pre-Arthritic Patient and Athlete: a Video Exam with Computer Generated Model", American Academy of Orthopaedic Surgery Annual Meeting, March 9-13, New Orleans, LA, (2010)
Knee Replacement Study-Dr. Lang
Gait Kinematics, Balance, and Functional Outcomes Following Total Knee Arthroplasty: A Prospective, Randomized Study of Cruciate Retaining versus Posterior Stabilized Implants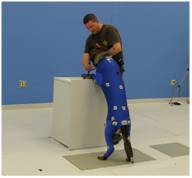 The purpose of this project is to incorporate multi-slice CT, motion capture, and computer animation to model joint movements in these working dogs. With the information gained from this work, we hope to provide early detection and treatment to minimize loss of man-hours, financial investment, and mission readiness.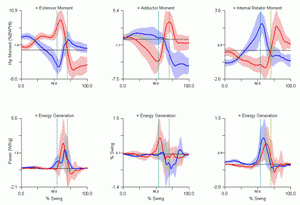 The primary purpose of this research is to describe the forces and moments occurring about the hip during a typical golf swing performed by male golfers.
The 'Limit of Stability' (LOS) is the area in which the position of the center of mass/gravity (COM/COG) is controlled without moving the base of support. Decreased stability limits are a major risk factor for falls, and negatively impact dynamic functional activities involving weight-shifting and voluntary sway. An accurate, sensitive computerized forceplate test of the LOS® has been available for 20 years, but adoption has been hampered by perceived cost. The Functional Reach Test (FR) was developed as a low-cost, low-tech LOS test for home use, but the FR does not measure LOS or predict fall risk. The FR requires trunk motion, but not necessarily shifts of the COM/COG. The Sway Sled® (SS) is a recently developed, low-cost, reliable and valid test of LOS that requires COM shifts, with good retrospective fall risk prediction. The purpose of this study was to compare kinematic measures of the postural movement strategies used to accomplish these three tests. We hypothesized that FR scores are achieved with trunk motion in the absence of COM/COG motion, while LOS® and SS® scores are achieved with COM/COG motion.
Forward Head Posture (FHP) is a commonly observed postural defect in the geriatric population. Incidence of forward head posture deviation increases with age and is linked to increased number of falls. Explanations for this relationship have included changes in cervical anticipatory postural adjustments, altered head and neck position sense, vestibular deficits, and physical functional difficulties such as rising from a chair. The purpose of this study was to determine the relationship between fall risk and forward head posture as measured by several tests, in independent, community-dwelling older adults.