Alumni, parents, and friends are making transformational gifts to enhance the work being done here at Winston-Salem State University. These investments have a major impact in the areas of:
Colleges, departments, schools
Capital projects
Scholarships
Faculty support: Distinguished Professorships, Faculty/Staff Development Funds
Did you know?
90% of our students are receiving financial aid (grants, loans, and work-study).
The cost of attending WSSU for an in-state student is over $12,000 per year. This calculation includes tuition and fees, as well as room and board only.
60% of our students expect no contribution to their college expenses from family members.
There are several ways to help offset these costs and provide a gift that continues to help the university for years to come through long-range financial planning. Here are a few examples of how to raise your impact on our future alumni and lower the impact of estate taxes:
Make a bequest to WSSU from a will or a living trust- either a specific amount or a percentage of your estate.
Establish a charitable gift annuity, providing payments to you during your lifetime with the balance of the annuity going to WSSU at your death.
Endow an Academic Scholarship or Distinguished Professorship.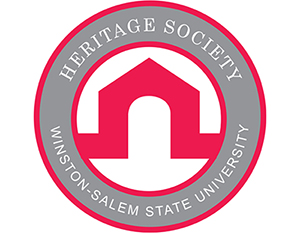 Visit the Planned Gifts site to learn more.
If you have questions or want to further discuss the best route to invest in WSSU, please contact:
Andrea M. Jenkins
Director of Development, Major and Planned Gifts
The Office of University Advancement
1-336-750-3114
jenkinsam@wssu.edu
Giving Impact Areas
Winston-Salem State University is proud that across its campus people who've had direct, substantial and active influence on the development of the University are honored and remembered in bricks and mortar.
There are several ways to celebrate the legacy of such distinguished alumni including: the naming of physical spaces on campus, academic programs, faculty chairs, scholarships or fellowships. Significant endowed gifts like these ensure the continued advancement of our academic programs.
We intend to continue naming physical facilities in recognition of individuals or organizations that have attained achievements of extraordinary and lasting distinction.
The university has a strategic master plan, designed to improve the efficiency, effectiveness and resources of our campus. It's our guide to transforming and continuously enhancing our campus facilities and grounds. There are an array of naming opportunities, including:
Classrooms
Lecture Halls
Student Laboratories
Faculty Research Facilities
Conference and Meeting Rooms
Student Study and Lounge Areas
Dedicated Libraries
The naming of facilities is carefully considered by the WSSU Board of Trustees and is subject to policies established by the University Of North Carolina Board Of Governors.
Scholarships enhance our ability to recruit creative and critical thinking scholars who are ready to "enter to learn." This investment aids in alleviating debt for our students by decreasing their out-of-pocket expenses.
Establishing a scholarship can also be a meaningful way of honoring your family and friends. There are two types to select from:
Endowed scholarships are permanent funds that provide benefits to students year after year. They can be established with a minimum donation of $25,000
Non-Endowed scholarships can be established with a single, outright gift to WSSU. Although they are not permanent, donors often renew their financial support annually
Here's more information on scholarship options, investments and how to establish the ones that's best for you.
Investing in our faculty brings new and innovative techniques to the classroom, which retains our students and improves graduation rates.
As WSSU increases its expectation for research, faculty's effort to balance teaching with high expectations of scholarship can be supported through:
Endowed Distinguished Professorships
Contributions to already established or new professorships provide Winston-Salem State University with the ability to attract and retain top-performing teacher-scholars. They support accomplished talent with the tools to build top-ranking programs; obtain critical research and teaching grants; and meet classroom development needs, to name a few. The University of North Carolina System may match funds to multiply the impact of your gift.
Faculty and Staff Development Funds
Development funds help WSSU retain and reward faculty and staff members who teach, guide, and support students. These discretionary funds may be earmarked for recognition of faculty achievement; professional travel; continuing education opportunities; research; and sabbaticals.