Welcome to WSSU and the start of your graduate career.
Congratulations on your acceptance, and welcome to the Ram Family (RAMily). Your success here is our #1 priority! Here is the info you need to complete your enrollment. Please complete all of the steps listed below.
---
Virtual One-On-One Sessions
Need help finishing your enrollment tasks? Sign up for any of these one-on-one virtual sessions.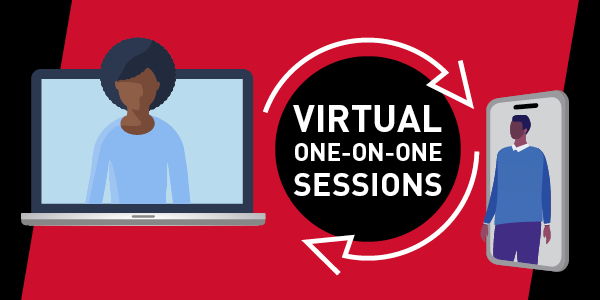 ---
Graduate Admitted Students Checklist
Log on to your
GradApply
portal account to accept your admissions offer.
You must complete this step in order to:
Access your WSSU email address (WSSU creates your email address and posts it to Banner Rams Online) - follow the instructions below to logon to Banner Rams Online):

Click Enter Secure Area
Your User ID is your Banner ID (printed on your acceptance letter)
Your PIN is set to your date of birth in mmddyy format - you will need to change your PIN the first time you log in

Receive instructions for creating your Network ID and password (see 'Create Your Network Login' in the Admitted Students Checklist)
You must create your network login before you can continue through the following enrollment steps:
Register with MEDPROCTOR
Waive coverage or enroll in the student health insurance plan (Student Blue)
You should receive these emails 2-3 business days AFTER you confirm your intent to enroll.
Network Login Instructions
STEP
INSTRUCTIONS
1
Check the email account you entered on your Admissions application for two emails from the Office of Information Technology (OIT). The first email will include your



Banner ID (WSSU 9-digit student ID number)
Name
WSSU Email Address
RAM ID (WSSU network username)
Instructions for creating your network login

The second email will include your temporary password (case sensitive)

2
Follow the instructions provided in the first email - use your RAM ID and Temporary Password to create your network login.
3
Remember your login credentials and keep them secure.
Contact Information

| | |
| --- | --- |
| NOTE: | If you do not receive the two emails described in Step 1, please contact Technology Support Services at 336-750-3431. |
WSSU student email is an official method for all university communications. It is often the primary source of communication for our students. 
 Accessing Office 365
To access WSSU's student e-mail system, navigate to the Microsoft Outlook Web App and login with your RAM ID and your network password.
Click on the Email icon under Current Students

Sign-on with your WSSU email address and network password
To learn more about how to use Office 365 visit 
Frequently Asked Questions
.
Financial Aid is a great opportunity to help you pay your student bill! We encourage all students to apply for Financial Aid through the Free Application for Federal Student Aid (FAFSA).
Financial aid awards are made after the FAFSA has been received by WSSU and reviewed for accuracy and completeness. The award process may take between four to six weeks to complete based on your specific situation. The WSSU FAFSA code is 002986.
You may be selected for verification, a process that confirms the accuracy of the information you provided on the FAFSA. Selection for verification is determined by the U.S. Department of Education. Please review the verification information included in the Resource section of the Financial Aid website.
Take advantage of the WSSU FATV videos - great resource for all of your questions!
FIVE THINGS you need to know about Student Blue Health Insurance
Admitted students:
must have health insurance
are automatically charged for Student Blue
must enroll in or waive Student Blue coverage
can access the Student Blue website here
Waive requirements: You must provide proof of other health insurance coverage to waive coverage through Student Blue.  Other health insurance includes coverage under a parent/guardian health insurance plan, coverage under your personal plan, or Medicaid. Student athletes may not waive the health insurance.
Enroll requirements: If you do not meet the waiver requirements, you must enroll in Student Blue Health Insurance
The cost automatically appears on your student bill. If you complete the waiver process, and your waiver is approved, the cost will be removed from your student bill.
Your bill must be satisfied through financial aid, a payment plan, another funding source, or a combination of these. To get access to your room and attend classes, you must complete this step!
LEARN MORE ABOUT PAYING YOUR BILL
The Graduate and Professional New Student Orientation is required and will be held online Thursday, July 15, 2021. 
Get answers to your questions about health and wellness, financial aid and student accounts, registration, parking, and your program.
You can use this information to understand how you login and access the WSSU Enrollment Process technologies. Review Banner ID and Ram ID in the previous step.
Technology Login Instructions

TECHNOLOGY

LOGIN CREDENTIALS

Banner Rams – Self Service

View Financial Aid Award

Accept Financial Aid Award

Register for Classes

View Student Bill and Balance Due

Request Book/Parking Voucher

Banner Rams

Banner ID
Password is your date of birth (mmddyy) until you change it

WSSU Email Account

Network Login

RAM ID
Network Password

Email Login

WSSU Email Address
Network Password

Student Health Insurance
(Student Blue)

Banner ID
Password is your date of birth (mmddyyyy)

MyWSSU
(Personalized Student Portal)

RAM ID
Network Password