Usage Guide
Checking In
Members and guests must check-in by swiping their valid RamCard or UREC ID card at the Welcome or Equipment desk upon entering the facility. Members may not loan their membership cards to anyone. Using false identification or cards will result in facility suspension. We may require members and guests to show additional photo identification prior to admittance. Members are not able to use the facility if they have an outstanding balance.
Personal Conduct
Members and guests are expected to act in a courteous, safe and respectful manner. Any type of harassment of students, staff members or campus guests is prohibited. This includes verbal abuse, use of profanity or other abusive language, intimidation, and staring at or following another person within the facility.

If at any time a member or guest does not comply with the rules and/or the direction of any staff member on duty, the patron will be asked to leave, and his/her fitness center privileges may be revoked. The staff has the right to recruit help from the University Police at any time.

Membership is a privilege which may be modified or revoked for cause. Individuals not complying with the established procedures may be asked to leave the facility and/or be subject to departmental and/or campus disciplinary procedures.

Individuals or groups using the UREC facilities and/or equipment are responsible for any damage to that property as a result of negligence or vandalism. Repair/ replacement costs and a service fee will be charged to the individual, or group contact, as soon as these costs can be determined.
Members or guests shall not conduct, purchase or subscribe to any commercial business or activity on the UREC premises or solicit other members or guests for any reason without prior written consent.
Smoke Free / Gum Free / Food Free
Use of any type of tobacco products, gum, food and drinks (other than water) within UREC is prohibited. UREC is a water only facility.

Attire and Personal Hygiene
In an effort to promote safety, reduce the spread of communicable diseases and prevent additional wear and tear on equipment and machines, all participants are asked to wear appropriate athletic clothing while working out or participating in activities. Participants not wearing appropriate clothing or clothing that may be found offensive to others will be asked to adjust as needed or asked to leave the facility.
A shirt must cover the upper body, including back, sides, stomach and chest.
Shorts must cover at least two inches past the rear.
Shoes are required in all activity areas except for yoga classes. Athletic shoes with non-marking soles are required. Open-toed shoes, open-backed shoes, boots, sandals, or casual shoes are not allowed.
Recommended attire includes: sweat pants or shorts, non-mesh t-shirts or tops.
Jeans, jean shorts, street cargo pants, belts, or any articles of clothing with zippers or rivets are not permitted.
We recommend that you do not wear jewelry which may cause injury or damage to the equipment.
Please observe proper personal hygiene by showering regularly, wearing clean clothing, avoiding cologne, and using deodorant. Please avoid smoky areas prior to working out.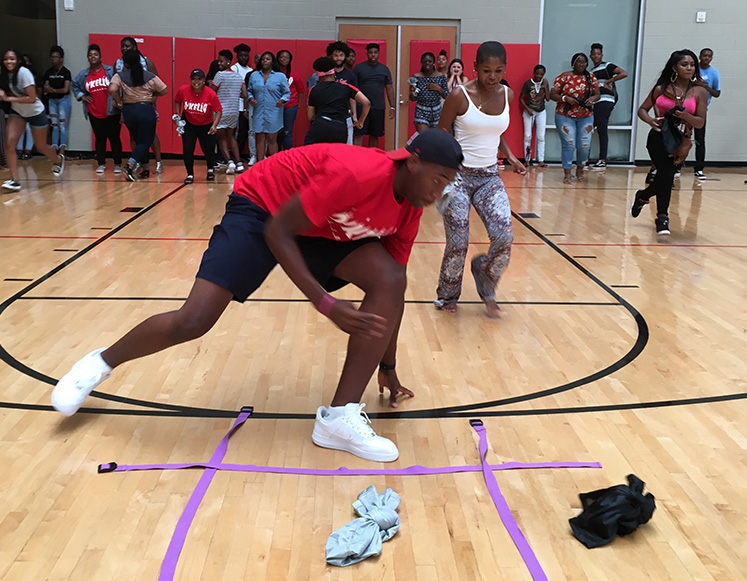 Use of the Facility
All personal belongings must be placed in lockers or cubbies. UREC and the staff members are not responsible for lost or stolen property.
Use of the facility and all equipment is available on a first come/ first served basis. Special events and scheduled programs take precedence over open recreation.
Members must use the equipment only in the manner intended by the manufacturer and authorized by UREC. Please ask the UREC staff for assistance when using equipment with which you are not familiar.
Please report damaged equipment, equipment malfunctions or injuries to the UREC staff immediately.
DO NOT USE the equipment if you are taking any medication that causes drowsiness or have any medical condition which makes such use inappropriate.
If any areas are in need of custodial services, please inform a UREC staff member.
UREC Court Guidelines
Hanging from or grasping the basketball backboard, net or rim is not permitted.
Dunking is not permitted
Persons damaging the facility, equipment or any safety equipment are subject to disciplinary action and will be held financially responsible.
Attire must be in accordance with the UREC policy. Tennis shoes and basketball shoes are the only footwear allowed in the UREC gym.
Please see additional guidelines for lockers, fitness areas, GroupX and intramural sports.