Fieldwork courses are designed to provide students with extended opportunities to practice the role of practitioner, educator-learner, researcher and administrator in clinical and community-based settings, as well as, in emerging areas of Occupational Therapy Practice. Fieldwork courses are designed to support the didactic content as well as to provide opportunities for students to practice competencies and skills learned throughout the curriculum. Through Fieldwork experiences students are able to apply the Occupational Therapy Process with diverse populations. Fieldwork courses emphasize wellness, health promotion, client centeredness, cultural relevance, professional reasoning and evidence based practice.
Level I Fieldwork experiences designed to enrich student learning through real life applications.
Car Fit
Developed in collaboration with the American Automobile Association (AAA), AARP, and the American Occupational Therapy Association (AOTA), CarFit utilizes a 12-point checklist to evaluate the physical fit between a driver and their car.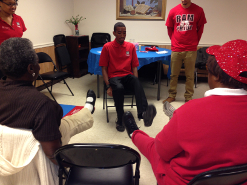 Fall Prevention
The fall prevention program is designed to educate older adults on how to prevent falls in their every day lives. Statistics show that every 15 minutes an older adult visits the Emergency Room for fall related injuries.
Pediatrics
The community based pediatric experiences address the developmental needs of children and adolescences that range from preschool to high school.
Mental Health/Community
WSSU's Mobile Clinic provides free health screening to underserved populations in the Winston-Salem areas. Under faculty supervision, OT students conduct a preliminary interview with patients for screening eligibility, perform mental health screening, provide onsite psychological support and occupational therapy consultation as needed.
Fieldwork practicum provides students with opportunities for implementation and delivery of OT services under supervision. It is the expectation that students will implement services that are occupation-based, client-centered and culturally relevant in a variety of settings. Examples of the types of fieldwork facilities include: acute care and rehabilitation hospitals, skilled nursing facilities, outpatient clinics, private practice agencies, schools and community-based agencies. Level II Fieldwork experiences provide opportunities for students to address the physical, cognitive and psychosocial needs of diverse populations across the lifespan, including children, adolescents and adults. All fieldwork must be completed within 24 months following the completion of academic course work and prior to graduation.
Complete form if you decline to participate in the Hepatitis B vaccine series or Hepatitis B Antibody.
Upload form to castlebranch.com along with official immunizations record form.
This form is an evaluation of the student's fieldwork I experience.
Complete this form before your final fieldwork assessment meeting with your fieldwork educator or faculty member.
Submit a copy to the faculty member overseen the Level I fieldwork experience.
The SEFWE is an evaluation of the student's fieldwork II educational experience and it is a requirement for obtaining a final grade on each of the Level II fieldwork practicums. The SEFWE is to be completed by the student upon completion of each Level II fieldwork experience. Review this form with your fieldwork educator during your final review/evaluation meeting.
Provide a copy of the SEFWE to your fieldwork educator and mail it along with the Fieldwork Performance Evaluation for the Occupational Therapy Student in the enveloped provided in the FW packet.