Staff Senate
On behalf of the Winston-Salem State University Staff Senate Executive Board and the WSSU family, we welcome you to Ram Country! We encourage you to take an active role in the organization.
The mission of the organization is to provide an opportunity for all staff members at Winston-Salem State University to have an interactive role in defining and maintaining a workplace that encourages input from all staff in creating a harmonious environment in which to work, while collaboratively supporting the university's quest to provide a "premiere education" for its students.
The Staff Senate seeks to enhance the visibility of the organization and make it a vital and recognized organization for its SHRA and EHRA non-faculty members. With this purpose, we seek to:
Stimulate a positive and supportive esprit de corps among staff;

Establish a forum whereby staff can engage in an interactive dialogue with the Chancellor and/or chief administrators of the university to exchange ideas, express views, and make inquiries and/or suggestions for the improvement of working relations and environment at Winston-Salem State University;

Keep staff abreast of issues that impact their respective jobs and workplace;

Develop a network of diverse and talented employees organized to establish and support activities that foster professional growth and development as well as recognize the interests, contributions, and potential of all staff employees; and

Assist in developing and implementing a variety of perpetual on-the-job training opportunities designed to enhance the skills and techniques of staff dedicated to directly influencing the long-term health and vibrancy of our community. 
June Employee of the Month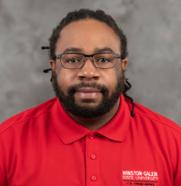 Justin Grandison
"I wish to nominate Justin Grandison for the Employee of the Month. He is an excellent employee, a huge asset to O'Kelly Library and the Winston-Salem State University community and is very deserving of this award and recognition.

Justin is the Technology & Computer Support Technician in the library. He has stepped up to take on the duties of a former employee and in doing this he has helped ensure the library technology remains stable to assist the WSSU community. Justin's knowledge of computers and equipment is extensive and he is continually learning new information on his own time to suggest new and innovative ways the library can remain an integral part of the university. Justin seems to be a walking encyclopedia of knowledge when it comes to electronic devices and computers, and he loves to share his knowledge with anyone who will listen.

He has a strong connection with the students and as Adjunct Professor Instructor over a First Year Experience course in the FYE program at WSSU, he shares his knowledge to assist incoming students to make their transition from high school to college level academia. Justin is especially talented in engaging with his students concerning the value of social justice and educational equity.

The last two years have been especially tedious in tasks for us all on campus and within the library. Despite the overwhelming amount of work that everyone has to do in the library, Justin performs many tasks that are not a part of his official duties. The library is currently short-staffed and he consistently helps his co-workers and the other departments on campus. Whether it is lending his physical strength to move books, equipment, and items in the library, organizing surplus material removal with WSSU Facilities, working with WSSU IT, or using his knowledge of film and media to assist during commencement at the university as a camera operator during the ceremonies numerous times, Justin is always available to help out and never expects anything in return other than knowing the job has been completed well.

I respectfully submit this nomination for Justin to be recognized as the WSSU Employee of the Month"
- Luchrita Fulton
Who's a Ram

Linwood Skinner 
Please watch his interview on our Microsoft Stream Channel!