Staff Senate
On behalf of the Winston-Salem State University Staff Senate Executive Board and the WSSU family, we welcome you to Ram Country! We encourage you to take an active role in the organization.
The mission of the organization is to provide an opportunity for all staff members at Winston-Salem State University to have an interactive role in defining and maintaining a workplace that encourages input from all staff in creating a harmonious environment in which to work, while collaboratively supporting the university's quest to provide a "premiere education" for its students.
The Staff Senate seeks to enhance the visibility of the organization and make it a vital and recognized organization for its SHRA and EHRA non-faculty members. With this purpose, we seek to:
Stimulate a positive and supportive esprit de corps among staff;

Establish a forum whereby staff can engage in an interactive dialogue with the Chancellor and/or chief administrators of the university to exchange ideas, express views, and make inquiries and/or suggestions for the improvement of working relations and environment at Winston-Salem State University;

Keep staff abreast of issues that impact their respective jobs and workplace;

Develop a network of diverse and talented employees organized to establish and support activities that foster professional growth and development as well as recognize the interests, contributions, and potential of all staff employees; and

Assist in developing and implementing a variety of perpetual on-the-job training opportunities designed to enhance the skills and techniques of staff dedicated to directly influencing the long-term health and vibrancy of our community. 
Employee of the Month
October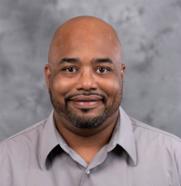 Christopher Screen
---
"I nominate Mr. Chris Screen, Technology Support Analyst in the Office of Information Technology for Employee of the Month for October. He always is courteous, professional, and respectful and his attitude is exemplary. He is always going above and beyond. When he responds to a ticket request for assistance, he calls the day of the event to make sure everything is working well. When calling him for assistance, if I am having technical difficulties, he will come over like right away! He offers set-up advice for the cameras, the microphones, and all equipment. He secures cords and makes sure the room is safe for attendees. Chris and I volunteered at the vaccination station for a RAM football game. As always, he was professional and made an excellent partner at our station! Chris works to make sure our classrooms and meeting spaces in F.L. Atkins are equipped with up-to-date technology and that the devices are operable. I don't know any other employee who moves quickly between all buildings on campus to handle technology for students, faculty, and staff. Chris Screen is definitely a super great employee and represents OIT and the university with respect and integrity. He truly serves above and beyond. Thank you."
- Kim D. Smith
"Chris works in the I.T/ Multimedia department. I've noticed that Chris goes above and beyond to assist his fellow colleagues on a daily basis all around campus. I know for sure that he completes tasks beyond his assigned job duties. Chris assists a large number of faculty and staff with on-the-spot setup/ configuration in the time of need and urgency. He tends to stop what he is doing to attend to the urgent request of fixing a project screen and computers in classroom settings, or setting up technology for university events, etc. For example, my department invited a guest speaker, and we were having technical difficulties with the projector screen and computer in F.L Atkins. I called Chris in the moment of urgency at 8:00 am, and he stated that he was going to come over to my building immediately to help solve the problem before the guest speaker arrived. I was very grateful for his timely assistance.

Chris works in a department of only 2 employees, so this speaks volumes of his staff to staff customer service. He is always pleasant with his response and friendly. If it was not for Chris responding to urgent phone calls and emails in a timely manner a lot of professors and staff would be unable to teach their current class or perform timely tasks by the due dates. I really appreciate Chris's customer service."
- Toreisha Faison
---
Who's a Ram



Karen Cession 
Please watch her interview on our Microsoft Stream Channel!