The RN to BSN path at Winston-Salem State University recognizes registered nurses as adult learners with experience in nursing and an active personal life. If you need a student-friendly program with enough flexibility to meet your specific needs, the WSSU RN to BSN program is for you..
Students who have a RN license may apply for admission to the RN to BSN, 
Bachelor of Science in Nursing,
 program which is offered online as well as on-site in many locations across the state.
Applicants must meet the admission requirements for WSSU and the RN-BSN program.
WSSU Admission Requirements
Have at least 24 transferable credit hours with cumulative 2.0 GPA AND
Are eligible to return to the last institution you attended
OR
Obtained an Associate of Arts or Science degree from a regionally accredited two-year institution.
OR
Earned a Transfer Core Diploma or Transfer Readiness Diploma from a North Carolina Community College.
RN-BSN Admission Requirements
Unrestricted and active NC RN license
Completion of prerequisite courses:

Statistics (3 credits)
Developmental Psychology (3 credits)
Anatomy and Physiology I and II (6 credits)

Successful completion of NCLEX
A minimum of 51 hours of transferable credit in courses that are considered outside the nursing major
The AAS and ADN degree (which are applied science degrees) require that transfer credit is applied on a course-by-course basis.
Winston-Salem State University now offers the RN-BSN Competency-Based Education (CBE) Program. The WSSU RN-to-BSN CBE program provides an alternative RN-to-BSN education following the standard curriculum in the nursing program, but connects the course to competencies that are individually assigned to each student. This allows the learner to customize their pace of the RN-to-BSN program, and advance at their own rate as they master each of the competencies for each of the courses.
The CBE option allows the student to complete the RN-BSN program on a more individualized pace with the continuous support and guidance of nursing faculty. The program is delivered through online format, with no classroom attendance required. The CBE offers additional flexibility for the busy working student while delivering a quality program that is one of the most affordable in the nation.
Application Process
The RN-BSN program accepts new students for the fall, spring, and summer terms. 
Important: All documents must be submitted by the due date to be considered for admission.
| | | |
| --- | --- | --- |
| Spring (January) Admission | Summer I (May) Admission | Fall (August) Admission |
| Submit application and all supporting documents by November 10 | Submit application and all supporting documents by April 10 | Submit application and all supporting documents by July 10 |
Select

 

Transfer

 

as your Entrance Status
Select

 

Nursing ADN-BSN

 

as your Major
Check

 

Distance Learning

 

as your Student Type
Enter

 

Nursing

 

as your Major
Check RN-BSN as your Distance Learning Program
A paper application is required for students seeking readmission to WSSU.
All documents must be submitted to:
WSSU Office of Admissions
Anderson Center Suite 137
601 S. Martin Luther King, Jr. Drive
Winston-Salem, NC 27110
admissions@wssu.edu
Transcript Rules and Tips
Indicate all schools for which college credit was earned, or is currently being earned regardless of the year(s) you attended or your major at the prior institution. Failure to list every school will result in delays in processing the application.

 

No decision will be made until all transcripts are received. Any discrepancy between the colleges you listed and the transcripts that come in will cause delays in processing.
When you apply, list every last name you have used that may appear on a transcript.

 

It can be extremely difficult to match transcripts to applicants when names do not match, causing delays in processing your application.
Request that official transcripts be sent to the

 

WSSU Office of Admissions

 

(not Office of the Registrar) from every school attended. Your application will remain incomplete until all transcripts and other required documents are received by the Admissions Office.
If you are currently enrolled in a college or university, you must send a copy of the current course registration information and/or an unofficial transcript from the current institution so that the courses can be considered as part of the application.

 

The document(s) should be mailed or emailed (as a pdf) to the WSSU Office of Admissions. Please include a note that explains the information.
Any acceptance decision is considered 'Conditional' when registration information and/or unofficial transcripts for courses in which you are currently enrolled is used in the decision-making process. An acceptance decision is subject to reversal if the final, official transcript does not show satisfactory completion of the coursework or is not be submitted before the start of classes.
You are required to pass NCLEX, and have an active NC nursing license prior to being accepted into the program.  The Admission office will verify your license during the application process.
NEXT STEPS
Go ahead... take the next step. Ignite your passion, discover your strength, and prepare to make a difference in the world. There is no ceiling to what you can do at WSSU. #BeTheNext
Accreditation
The baccalaureate degree in nursing at Winston-Salem State University is accredited by:
Commission of Collegiate Nursing Education
One Dupont Circle, NW, Suite 530, Washington, DC 20036
202-887-6791
Winston-Salem State University is accredited by:
Southern Association of Colleges & Schools (SACS)
1866 Southern Lane, Decatur, GA 30033
404-679-4500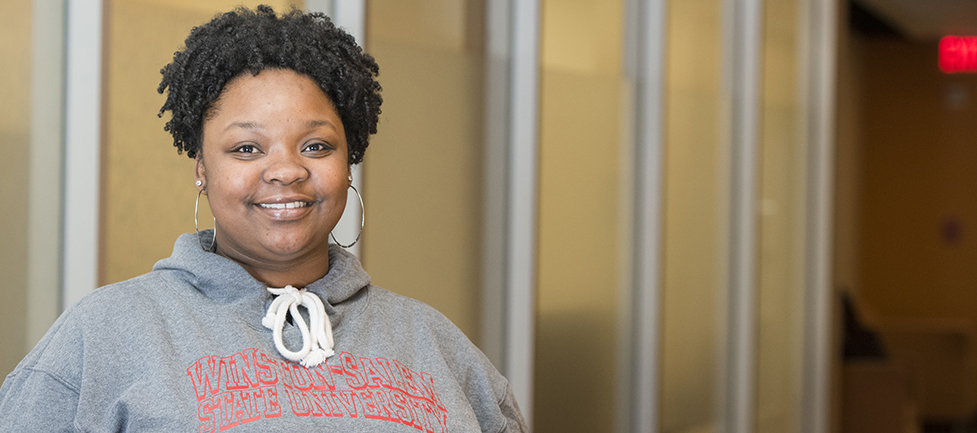 This program is great because we explore different areas such as pediatrics, mental health, public health, and maternal and newborn care. We get a feel for each area which prepares us to take on any field of nursing. I also love the family environment and that we all have each other's backs.