Virtual Hospital
The purpose of the virtual hospital is to provide students an opportunity to practice realistic health care in a no risk but high-yield environment that replicates the clinical setting. Using full sized high fidelity manikins that can produce life like physiological imitations of disease states and can respond to medical interventions our students can learn to perform tasks, interpret medical data, enhance critical thinking and decision making skills and practice safety while at the same time build confidence.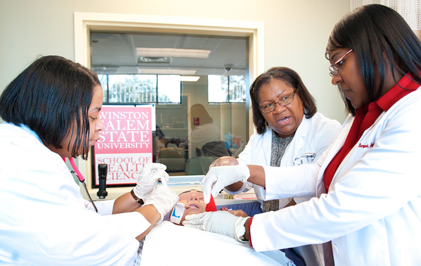 The virtual hospital at the Enterprise center is the second of two virtual hospitals for the university with the first location being on the campus of and in collaboration with Wake Forest University Baptist Medical Center located on the first floor of the Progressive Care Building. This new location is entirely WSSU and provides a distinguished opportunity "at home."
One of the most boastful advantages of our newest virtual hospital location is that it is in the heart of the community that has so loyally served our university affording us the opportunity to give back through service. The virtual hospital has plans to offer health care services such as blood pressure screenings, wound care and diabetic patient teaching to the citizens of the neighborhood and surrounding areas.
The School of Health Sciences is truly grateful for the opportunity to advance excellence in education and will consider this opportunity yet another step toward greatness.
School of Health Science
Virtual Hospital
Simulation Training Lab
S.G. Atkins Enterprise Center
1922 S. Martin Luther King Jr. Drive,
1st Floor SOHS Suite
Winston-Salem, NC 27101