Major | BSN
A national premier nursing school, WSSU's undergraduate Nursing program prepares students to enter the workforce as generalists. The program provides theory, clinical practicums and public service experiences that are essential for delivery of professional nursing care in a variety of settings and to diverse populations. These experiences foster values such as kindness, compassion, justice, loyalty and also cultural competence and sensitivity. 
Sixty hours are required in the general education core and support courses for the nursing major. Upon completion of these courses, the student may apply for admission to the nursing major.
Admission to the university does not guarantee admission to the nursing program. Students must meet specific admission criteria set forth in the catalog and must apply for admission to the upper division of the major.
Nursing Scholarship Programs
Accreditation
The baccalaureate degree in nursing at Winston-Salem State University is accredited by:
Commission of Collegiate Nursing Education
One Dupont Circle, NW, Suite 530, Washington, DC 20036
202-887-6791
Winston-Salem State University is accredited by:
Southern Association of Colleges & Schools (SACS)
1866 Southern Lane, Decatur, GA 30033
404-679-4500
Program Description
Course Listing
Major Requirements
Admission Requirements
Program Paths
Students with diverse backgrounds are acknowledged for prior experiences and education. The faculty is committed to promoting career mobility in students by providing several program options to both traditional and non-traditional learners.
The pre-licensure BSN curriculum for WSSU generic students consists of the General Education Core requirements for Winston-Salem State University, pre-requisite courses for the nursing major and the nursing courses.
Suggested Plan of Study
Students entering WSSU as first time freshmen will be guided by faculty advisors through the General Education Core and pre-requisites. Transfer students will be advised by the Professional Advisors after acceptance to WSSU. The Division of Nursing will share information related to nursing pre-requisites and Upper Division admission requirements.
Course Requirements
Two nursing courses and six additional non-nursing courses are required. These courses will need to be taken during the freshman/sophomore years in order to progress into the Upper Division of Nursing in the junior year.
NUR 2313 Introduction to Professional Nursing (at least three of the four sciences must be completed before enrolling in this course. This course is only offered in Spring semesters).
BIO 2311 & 2111 Anatomy & Physiology I
BIO 2312 & 2112 Anatomy & Physiology II
BIO 1331 & 1131 Microbiology
CHE 1311 & 1111 Chem. for health Science Majors
MAT/PSY/SOC/GER 2326 Statistics
PSY 3336 Lifespan Development
Application to the Upper Division of Nursing

Students submit the Application to Upper Division by January 31 each year to begin program the Summer Session I. Most applicants will be enrolled in NUR 2313 and completing any other pre-requisites or General Education courses at the time the application is submitted. Acceptance and progression is contingent upon students being successful in the enrolled courses.


The ABSN Option at WSSU is designed to give individuals who have a bachelor's degree in another discipline an opportunity to complete the BSN in 13 months. Individuals interested in the ABSN option must complete all nursing pre-requisites prior to applying to the option.
The ABSN option is a full-time plan of study. Students are highly encouraged not to work during their matriculation in the option. The rigorous option offers the student every opportunity to engage in practical clinical, inter-professional and collaborative experiences. The ABSN path follows the same plan of study as the Traditional path, but in a 13 month timeframe.
Applications to the Accelerated BSN program are submitted August 1 - September 1 each year for January (Spring semester) start date.
The RN to BSN path at Winston-Salem State University recognizes registered nurses as adult learners with experience in nursing and an active personal life. If you need a student-friendly program with enough flexibility to meet your specific needs, the WSSU RN to BSN program is for you.
The RN-BSN option functions within the parameters of the generic nursing curriculum, but course objectives are met with critical thinking, imagination and creativity. Students must be self-directed and actively involved in the process of learning.
We offer classes at 18 off-site locations as well as an online option. Depending on the location, a new class is admitted each year either in spring (January) or summer (May). Students may attend the program at any off-campus site or online, limited online space availability.
The Paramedic to BSN path allows the paramedic who has graduated from an accredited paramedic program and is certified to practice as an Emergency Medical Technician-Paramedic by the North Carolina Office of Emergency Medical Services and/or the National Registry to complete their BSN. The student must have at least one year of experience as an EMT-P.
The path allows the paramedic to challenge certain prescribed nursing courses based on their clinical experiences. Course credit is awarded if the paramedic passes the challenge exam(s) and clinical simulation experiences with the prerequisite score(s) and/or skills check-off. Students are given one chance to challenge a course and successfully pass skills check-off. If the student is unsuccessful on the challenge experience, the student must take the course.
The student must follow all admission requirements set forth by the undergraduate nursing program. The paramedic to BSN option is a full-time plan of study.
Plan of Study


NEXT STEPS
Go ahead... take the next step. Ignite your passion, discover your strength, and prepare to make a difference in the world. There is no ceiling to what you can do at WSSU. #BeTheNext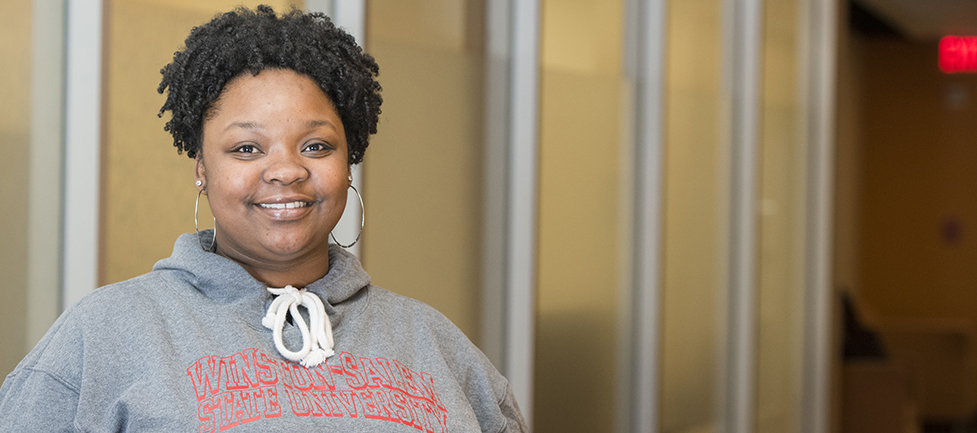 This program is great because we explore different areas such as pediatrics, mental health, public health, and maternal and newborn care. We get a feel for each area which prepares us to take on any field of nursing. I also love the family environment and that we all have each other's backs.